Called to be present and go deep
Frustrated by the limitations of online ministry, Celia sought a different way to serve people in the midst of this pandemic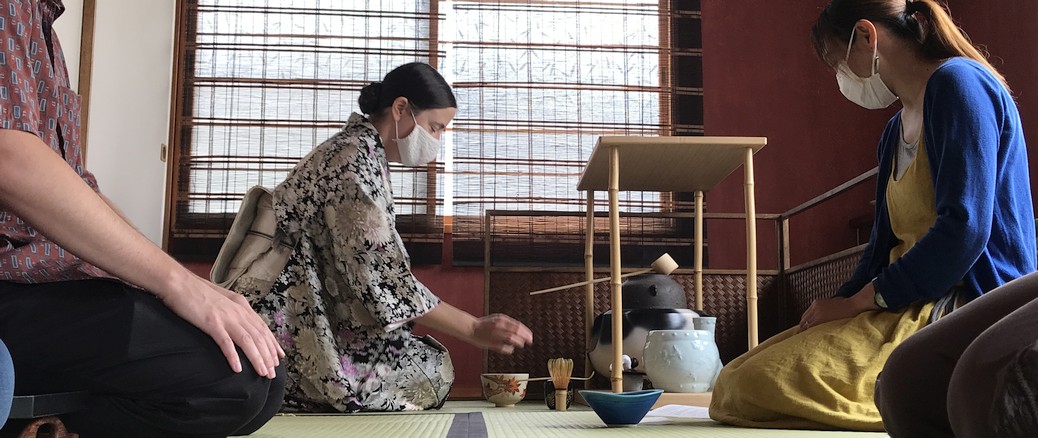 I kneel on the tatami floor of a tea room crowded with sixty other tea lovers clad in festive kimono. We have gathered to celebrate hatsugama, the "first kettle" of the year. I watch our host prepare the first bowl of koicha (thick matcha) in a red bowl lined with gold leaf. She sets the bowl out to be shared by the three most honored guests while an army of helpers emerge from the kitchen with tea to nourish the other fifty-some guests.
I am the last of the three people to drink from one bowl. On my left sits my teacher, but the tea arrives from my right—two complete strangers. A few weeks have passed now since the first COVID-19 cases here in Sapporo. I wonder, as I lift the bowl in thanks, how much backwash is mixed in with the tea. Even so, I drink deeply—the traditional three sips and a slurp. As I savor the sensation of viscous koicha coating the inside of my mouth, I reflect on the joy of being united with other humans by sharing a communal bowl.
Loss of physical connection
This may have been the last public koicha in Sapporo—ever. A few weeks after this event, the leader of my school of tea ceremony called for a permanent end to the practice of sharing koicha bowls, and all large chakai (tea gatherings) have been canceled for the foreseeable future.
It may seem strange that my biggest heartbreaks (so far) during COVID-19 have been the loss of shared koicha bowls and the inability to gather with hundreds of mostly elderly ladies kneeling on the floor for hours at a time. It's not so much these two losses in themselves that I grieve, but rather what they stand for.
During the Warring States period (1467-1615), when tea ceremony evolved into its current form, samurai would sometimes share a bowl of koicha to deepen their bond with one another before riding to war. Who knew if any of them would live to share another tea? I am reminded of Jesus sharing the Passover meal with his disciples before going to battle with sin and death. Now, in our battle against germs, we have lost a meaningful physical connection with friends and strangers, and for Christians, a powerful symbol of unity in Christ.
I started attending local chakai with my teacher in 2019 with the hope of expanding my circle of friends outside our class of five. I began to make connections with people I met. It seemed that participating in these gatherings was God's leading for friendship evangelism and a solid next step in my frustrating journey towards arts ministry. Losing this opportunity felt like (another) door slammed shut.
Unable to gather in person, some of the younger tea practitioners in Hokkaido held a Zoom chakai. I watched as our host prepared tea in Kushiro, then the first guest, elsewhere in Hokkaido, drank. Each participant prepared his or her own tea and sweets. This was a fun and interesting experiment and certainly better than nothing, but it lacked the sensory richness, informal conversations, and serendipitous meetings which one expects at a chakai. There was a sense of togetherness in adversity, but no possibility of making friends.
As the pandemic wore on, I grew anxious. Grieved and frustrated by the impersonality and rootlessness of online meetings, I wasn't doing anything that looked like ministry. God has called me to be physically present with people, I reflected, but how can I carry out that calling while stuck at home and cut off from all my friends? I felt like an utter failure as a missionary, turning up my nose at Zoom, the only means of connecting with the people I hoped to reach. The pressure to move my ministry online brought a bigger problem to light: Rather than serving God as myself and embracing his calling for me, I realized that I had been trying to mimic what I saw other missionaries doing.
Caring for those close by
Finding joy in the midst of COVID-19 grief started when I accepted God's invitation to take a break from looking for new connections and to love and serve those with me now. During lockdown, that meant God, the occasional neighbor, and my husband, Keith, who often gets my emotional leftovers when I am exhausted from ministry work. I spent hours each day practicing in my tea room, savoring the quiet space and the fragrant presence of God. Sometimes Keith joined me, and sometimes I was alone.
As restrictions eased, tea lessons started again. My teacher developed safety measures for performing tea ceremony and hosting guests, and I felt loved and hopeful, not least because she wanted to meet with her students in person. It seemed that each week we spent as much time sharing our joys and sorrows as we did studying and practicing. God gave me opportunities to speak words of comfort and to give permission to grieve. I realized that although large chakai provide opportunities to meet people, tea ceremony is better suited to intimate gatherings, allowing special connections to form between individual participants. Having learned how to host safely and inspired by my teacher's care, I began to consider who I could invite for tea in my home.
Before COVID-19, chakai-level of hospitality seemed a luxurious waste. When I host guests for tea, I start planning weeks in advance. What will be the theme of the gathering? What proverb or Bible verse should I display on the hanging scroll? Which utensils, sweets, and tea will suit the season, the occasion, and the taste of the guests? Sometimes I prepare a liturgy, weaving Scripture, songs, and poetry into the movements of tea ceremony and linking the bread and wine of communion with matcha and manju (steamed buns filled with red bean paste). With practice and cleaning thrown in, preparations take at least a solid week of work—all for only a few guests. No two chakai are alike. But with gatherings limited by COVID-19, I became free to lavish care on those around me.
In June, I hosted my kimono circle for ikebana and tea, with a liturgy based on Psalm 103 and Matthew 6:26–33. In July, I recycled my wedding liturgy into a fifteenth anniversary chakai just for Keith and me. In August, I hosted my tea ceremony class and challenged myself to make lunch as well. In September, a few people from my church community came for communion-tea with a liturgy based on Psalm 51; I used the same liturgy to host a group of missionary colleagues for communion in October. In November, my church community grieved and rejoiced together with a Thanksgiving chakai based on Habakkuk 3.
Guests expressed delight in the rooted, five-senses richness of tea ceremony, a welcome break from Zoom meetings. Several missionary colleagues had not been served communion in six months. One friend pointed out that when each person's bowl of tea was individually, lovingly prepared, rather than using one communal bowl, as for koicha, it reminded her of God's love for each of us as individuals, even as we gathered in community. As I enjoyed the responses of my guests, God confirmed to me that I was participating in the work of healing—that what I offered my guests might be luxurious, but it wasn't a waste.
Tea ceremony is the way God has gifted me to care for myself, for fellow missionaries, for people at church, and for friends. We all need intentional connection with God, with people, and with the physical world in this fragmented time.
You may be skilled at connecting with people by Zoom. If so, go forward in God's power! But if, like me, you feel called to physical presence, take heart and embrace your calling and giftedness. We have the opportunity now to reach more people than ever using online tools, but God also invites each of us to go deep with a few special people—the people God has uniquely gifted us to care for and reach.