Community, the key to introducing Japanese to Christ?
Japanese people are often drawn to Jesus through relationship first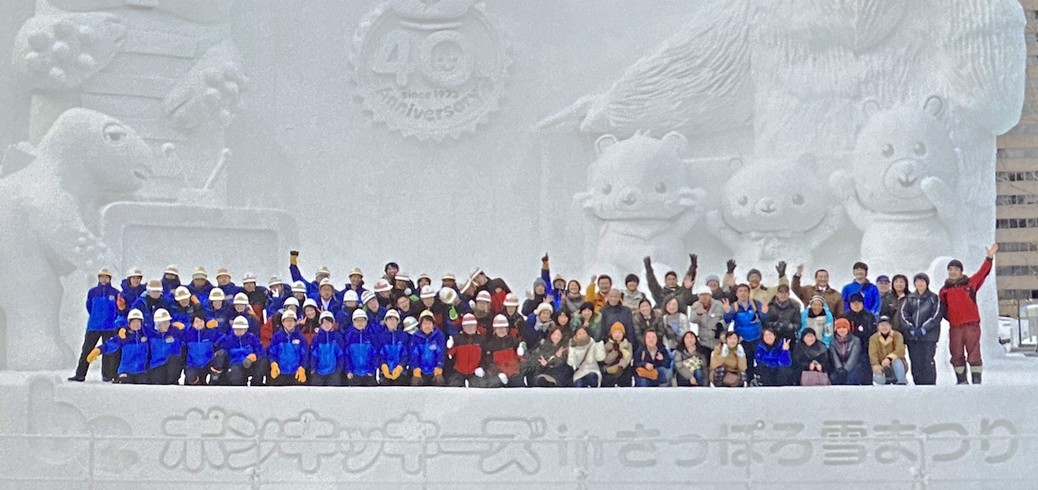 In the winter of 2012, I had just been given my first placement in a small church plant in Sapporo. I was a new missionary, bursting with hopes and dreams and ready to share about Jesus with all of Japan!
But how could I even begin? As a foreigner in a new city, how could I start to befriend people and share Jesus in a nation known to be very reserved and suspicious of anything religious?
A timely opportunity came up to volunteer at the annual Sapporo Snow Festival to help build the giant snow sculptures. Coming from Sydney, where one had to drive seven hours to get to the snow fields, I jumped at this unique opportunity.
Among the group of volunteers were people from all across Japan from their twenties up to their seventies. There was a lady from southern Japan who took time off work and paid for travel and accommodation to come specifically to volunteer at the festival each year. There was a man in his seventies who had been volunteering for over a decade and who brought photos to show us all the snow sculptures he had been involved in building.
We chiselled away at the giant snow sculpture in our ski wear and helmets in minus-10-degree-Celsius cold and slurped up hot steaming ramen noodles cooked in the trucks of the Japanese Self-Defense Force during breaks. Despite the fact that we came from varied backgrounds and life stages, there was an almost instant rapport with the other volunteers. We were nakama (comrades), a community united by our common purpose— to see this 14-meter tall snow sculpture through to its completion.
Shared experiences make relationship-building natural and easy, even with generally polite and reserved Japanese people. I still keep in touch with two friends I met through volunteering, even though we all live in different prefectures now. By God's grace, during my time in Sapporo, they came to several evangelistic events and heard the gospel.
Sharing the gospel through the church community
Another distinct experience I've had of community was during my time at a Japanese church in Sydney before I came to Japan as a missionary. Even though I had heard many say that Japanese people take years to believe, that was not the case there. In fact, we regularly baptized Japanese people who confessed their faith in Jesus.
Japanese people are typically suspicious of any religion. Many would say that churches are shikii ga takai (literally: "the threshold is high", or "difficult to enter") and would never step into a church. Despite all this, what drew these Japanese people in? Was it the uplifting worship? Was it the enlightening sermons? Was it the scrumptious afternoon tea? These factors may have had a part to play, but I believe that community was the key. Many of these Japanese people faced various challenges living in a foreign land with a foreign language. Having left their communities in Japan, many experienced loneliness. A warm and welcoming church community (as well as good food, of course) must have been irresistible for them.
In particular, I saw how God used one Japanese Christian couple, who ran a share house for Japanese women, to lead many to Christ. As they did life together, many of the women came to church, and a number of them came to faith.
From my limited experience as a missionary, I see that Japanese people are often drawn to Christianity through relationships before its teachings. Therefore, I believe that an integral part of evangelism is creating community—a community where nonbelievers can not only hear the gospel but see its power by experiencing the love, forgiveness, and grace of God lived out by Christians.
The apostle John wrote to a Christian community, "No one has ever seen God; but if we love one another, God lives in us and his love is made complete in us" (1 John 4:12 NIV).
Jesus himself states, "By this everyone will know that you are my disciples, if you love one another" (John 13:35).
Japan is largely a group-oriented society where an individual's identity is closely tied with the community to which they belong. Japanese communities are often united by sameness and conformity. We have all heard the famous Japanese proverb: "The nail that sticks up gets hammered down."
The Christian community, while sharing some features, is different to Japanese communities. We are not united by sameness but by Christ. Christ "is our peace" (Eph. 2:14). For this reason, we can celebrate unity with the diversity of the members. The church can be a place where individual uniqueness is welcomed and cherished, rather than rejected or stifled. This alone can be greatly attractive, especially to those who struggle to fit in or find the local community groups intolerant and constraining.
The local church is where Japanese people can experience the true community that has been won for us by Christ. It can be a community where people are accepted as they are and at the same time transformed into the likeness of Christ. It can be a community where they can experience genuine love, forgiveness, and harmony amid human weakness, sin, and suffering. It can be a community where Japanese believers—who are often a minority in their family, workplace, or school—can find fellowship, comfort, and encouragement to go out into the world and continue to be salt and light for Christ.
Connecting the Japanese people to Christ and his community
In 2019, seven years after my placement in Sapporo, I was placed in another church plant, this time in a small rural town called Yahaba in Iwate Prefecture, starting a church from zero. Work has been slow with seemingly little progress, but God has given my team opportunities to connect with people through involvement in volunteering, interest groups, and the local school. We have sought to create community by doing life together, hosting meals and BBQs, and doing leisure activities with our friends.
I met Eriko, a mother of two boys, when volunteering at a local childcare centre. "Eigojin desuka?" (Are you an English speaker?) her curious son asked.
"Yes!" I answered and explained that I was from Australia. Eriko and I began chatting, and she shared that her husband was also a foreigner.
Eriko seemed to be a typical busy Japanese mum—working full-time whilst running the household and serving as a PTA member at her son's preschool. She seemed open to friendship, and we exchanged details. We had lunch together, went to a local festival, and she came to our church BBQ. As we spent time together, she began to open up about her struggles with parenting and her marriage.
"When I spend time with you all, somehow I feel calmer, and I can be kinder to my children," Eriko messaged one Sunday after joining us for lunch. Later, when I asked her whether she would be interested in learning about parenting from the Bible, she responded with enthusiasm, "Yes, I'm interested!"
While my team and I do not know where this will lead, we are excited at the opportunity to read the Bible with Eriko and trust in the power of God's word to accomplish his purpose.
Many Japanese people appear to have it all together. They don't seem to have any pressing needs or struggles. Yet in the safety of a warm and welcoming community, they are often willing to let their guards down and show their true selves. Over time, they share with you their desires and dreams and their pain and struggles. I believe these are opportunities for us to humbly, lovingly, and meaningfully speak the gospel into their lives.
Here at YahaBible Network, our vision and prayer is that through our small and less-than-perfect church, people will experience something of God's perfect and heavenly kingdom. And as a result they would desire to not only be part of the community of Christ, but to invite their family and friends to also join.