Give thanks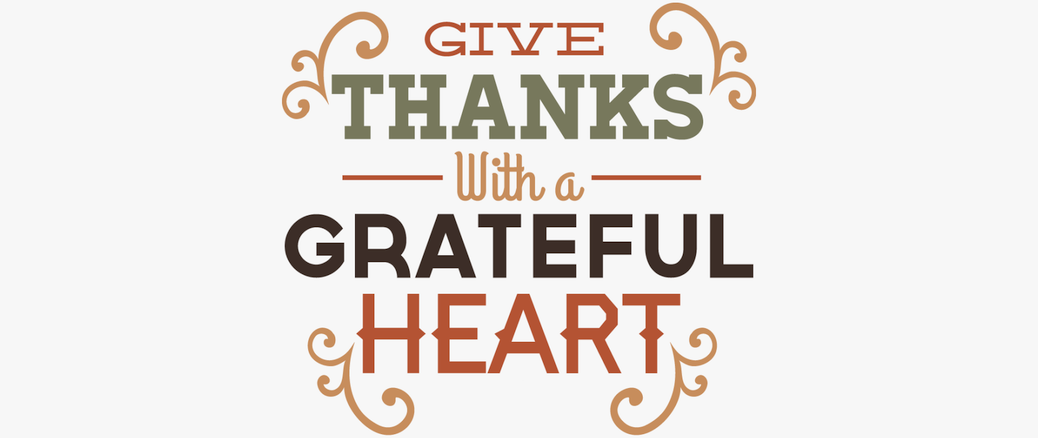 "When we seldom pray, we seldom see God at work and seldom give thanks. When we often pray, we often see God at work and often give thanks."1

Daniel Henderson
Giving thanks to God should be an important part of our prayer life. Recently, I was impressed that Jesus gave thanks before breaking the bread and feeding the 5,000: "Jesus then took the loaves, and after giving thanks He distributed them to those who were reclining; likewise also of the fish, as much as they wanted" (John 6:11 NASB 2020).
And Daniel prayed three times a day, giving thanks: "Now when Daniel knew that the document was signed, he entered his house (now in his roof chamber he had windows open toward Jerusalem); and he continued kneeling on his knees three times a day, praying and giving thanks before his God, as he had been doing previously" (Dan. 6:10 NASB 1995).
We are also told to bring our petitions to God with thanksgiving: "Be anxious for nothing, but in everything by prayer and supplication with thanksgiving let your requests be made known to God." (Phil. 4:6 NASB 1995).
What do you have to be thankful for?
Giving thanks for the good
"Give Thanks" is a well-known song written by Henry Smith in 1978, the year I came back to Japan. But I didn't know about it for quite a few years. When I heard it, though, it resonated with me. It encourages us to have a grateful heart, to give thanks because God is holy and because he has given us Jesus Christ.2 Yes, God is holy; it's His nature. And to meet the righteous requirements of His holiness, as well as to show His love for us, He had to send His Son to die on the cross to pay the penalty for our sins. What love! It's no wonder I should be grateful for what He has done for me, for you.
There is a whole raft of good things that we can thank God for. The apostle Paul said "that thanks may be given by many persons on our behalf for the favor bestowed on us through the prayers of many" (2 Cor. 1:11 NASB 1995).
God's favor to us in providing all we need for life and godliness (2 Pet. 1:3) is cause for much thanks. Only he is worthy!
Giving thanks for the not-so-good
The song was written at a time when Smith had trouble finding work after graduating from university and his eyesight was failing due to a degenerative condition. The chorus of the song exhorts the weak to say they are strong, and the poor to say they are rich. At his church in Virginia, his pastor had inspired him with how Jesus made himself poor to make others rich through Him.3 So, even being jobless (poor) and becoming blind (weak) could not stop him from thanking God. Why? Because He is worthy of all our thanks and praise. Giving thanks is not for just the good things but also for that which is not so good.
We can also thank God that through all the mayhem connected to COVID-19, the church has finally seen its mission as not only within its four walls but beyond. Because of online worship services and other gatherings, some churches have seen a dramatic rise in the number of those who participate in church activities. It is really true that "God causes all things to work together for good to those who love God, to those who are called according to His purpose" (Rom. 8:28 NASB 2020).
Giving thanks in all things
We are told to be thankful for everything: "In everything give thanks; for this is the will of God for you in Christ Jesus" (1 Thess. 5:18 NASB 2020), also "always giving thanks for all things in the name of our Lord Jesus Christ to our God and Father" (Eph. 5:20 NASB 2020). While not everything that happens to us seems good, God has provided it to us so that the end result will be for our good and for the good of those around us.
May our prayers be full of thanks to God for who He is and what He has done. There is always reason to show Him our gratitude through prayer.
1. Daniel Henderson, "Danielisms for Daily Living," Strategic Renewal, https://www.strategicrenewal.com/danielisms-daily-living/ (accessed February 25, 2021).
2. "Give Thanks (Smith)," Hymnary, https://hymnary.org/tune/give_thanks_smith (accessed May 20, 2021).
3. "Give Thanks with a Grateful Heart," Wikipedia, https://en.wikipedia.org/wiki/Give_Thanks_with_a_Grateful_Heart (accessed February 24, 2021).