How to Handle Interruptions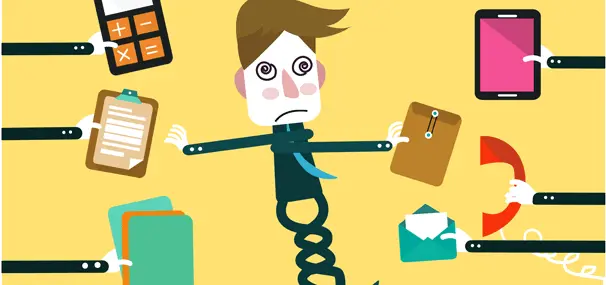 For those of us in full-time ministry, or simply for those with busy schedules, interruptions are a reality of life. The demands on our time make interruptions stressful enough but modern technology makes things worse. In the past, the main distraction was the telephone. Now notification alerts come from everywhere: cell phones, computers, iPods etc. This article offers some helpful advice on how to work with these unwelcome intrusions.
Embrace Your Fear
Sarah was often anxious about finishing her work at the mission's office since missionaries who needed help with translation regularly interrupted her job. The fear of not being able to finish caused Sarah to feel resentful. "What if I can't finish this?" caused Sarah to feel tense and annoyed. Instead of reacting negatively, Sarah decided to accept interruptions as part of her everyday life, "embracing her fear".1 This helped her to be less ruffled when interrupted, and move quickly to take back control of her time.
Delegate And Postpone
Mike found that in spite of having a competent church staff, he was expected to drop his work to answer every needy phone call or walk-in. Instead of getting angry, he applied the "delegate and postponing" technique the next time he was interrupted.2 He took a moment to find out if the interruption was an emergency. If it wasn't, he asked if he could postpone what the interruption seemed to demand until he had time to answer, or better yet, he delegated it to his staff. Though initially resistant, his staff actually became good at applying this technique themselves, which helped the atmosphere become less stressful.
Attack Procrastination
Joel was easily distracted by the many less important parts of his ministry, so he was often frazzled by small interruptions during his sermon preparation time. He decided to attack procrastination and his tendency to get off task.3 He set a timer for 90 minutes, to see how much he could get done in that time. He was pleasantly surprised at how much he could achieve when he focused.
Batch Outputs
As the director of a small but busy campus ministry, John found himself running in so many directions that he rarely got anything done. He found success by batching—grouping similar activities and getting them all done at once.4 He was able to get his work done more efficiently by making lists of what he needed to get done, including an accompanying time limit and action steps.
Explain Your Schedule To Others
Allan worked from home. He found his family's demands often kept him from getting his Bible study preparation done. Allan needed to learn to occasionally let them know he would be off-limits for a time, except for emergencies, without feeling guilty. He also needed to learn to set a realistic schedule, and stick to it.5
Start With The Main Point
Allison loved working with young people but couldn't keep up with her Japanese study because of their continuous calls and texts. She found one helpful technique to manage these kinds of interruptions was to kindly but firmly ask them to explain the main point of their call or text.6 This direct approach gave her the information she needed to make a decision quickly, and get back on task.
In conclusion, Murphy's Law holds true when it comes to getting a task completed, "If anything can go wrong, it will." With this in mind, expecting interruptions, and even planning on them in your daily schedule, will help you stay on course. Remember "divine appointments" are often disguised as interruptions. 
1. Seth Simonds, "9 Ways to Handle Interruptions like a Pro", March 8, 2010, http://www.lifehack.org/articles/lifehack/9-ways-to-handle-interruptions-like-a-pro.html
2. Simonds, Ibid
3. Simonds, Ibid
4. Simonds, Ibid
5. Simonds, Ibid
6. Simonds, Ibid