Our unusual education journey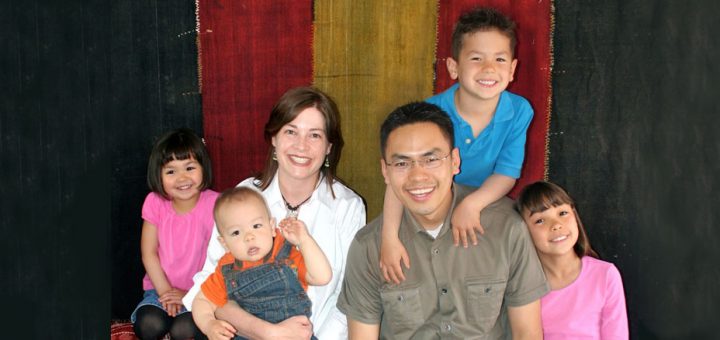 A‌s a child, I feared changing schools ‌and losing my friends. It was an irrational fear as my father was a farmer and it was very unlikely that we would move away from our family farm. Then, when I was only 12, my father passed away. It was devastating for our family and we had to move out of the farmhouse into town. Though my whole life was altered, I never had to change schools, and I graduated from high school with almost the same 60 people whom I'd entered kindergarten with.
The unfounded fear I felt as a child has served to give me more empathy for my children and their life paths, though their childhoods are vastly different from mine. Losing my father also taught me that children can be extremely resilient and that God is unchanging and always faithful. When I lost my earthly father, I decided to hold on to my heavenly Father as my rock.
Surprising provision in rural Turkey
Turkey was our first field. We committed to staying three years, though we had never even visited prior to that. We ended up loving it and served there almost ten years. When our oldest daughter started school, we were living in a remote area with only a few options for schooling. Since she already had learned Turkish in preschool, we decided to send her to a private Turkish school about 45 minutes away by bus.
As third grade approached, I felt desperate because she still could not read or write much English. I had tried many homeschool books, but it was not working. I began to pray more. When we didn't know what to do, God led us to move her from the private school to a public school in our village. Many of our Turkish friends thought we were making a mistake, as public schools are not known for their high academics in rural parts of Turkey, but my husband and I had complete peace.
Her new teacher at the public school wanted the students to learn to enjoy reading, which was unusual. He required the students to read an hour a day at home before they could watch any TV. We asked if she could read in English, which he allowed! She was very motivated because it was an assignment from her teacher, not her parents. God provided perfectly and in the right time. Most days at 6 a.m., I would find her sitting on the couch reading a book before school. By the time we went to the States for her fourth grade year of school, she was almost at grade level—it felt like a miracle to me.
An unusual choice in Japan
When we moved to Japan in November 2011, we put our older kids in the local Japanese school. I was studying Japanese full-time and my husband was staying home with the toddler, helping the kids with their Japanese homework. It was hard! We felt that our ministry work was on pause for about two years until we settled our kids, but it was all part of God's plan.
One way we saw God using this trial was to cultivate the artistic talents in my oldest daughter. Many times she expressed herself on a test with drawings when she did not have the words. Sometimes they were disturbing, but we were still encouraged.
When it came time for her to go to junior high school, we felt that she should choose. Her options were: home school, the local Japanese school, or an international school (but I really didn't want her to choose the first option). She chose the local Japanese school because her best friend was going there. I never imagined that I would have peace with that choice, but I did. As we prayed, we knew that was the place for her. (An added bonus was that, because she had to wear a uniform, she saved a lot of time each morning not having to decide what to wear!)
Now, I don't think it is always right to allow your child to choose which school is right for them. If we had allowed one of our other children to choose, they would have quit school at the age of 10!
The path to home schooling
I was praying to God while taking my usual nightly walk, and I received clarity about our oldest son's education. He was struggling in the local Japanese school, never able to catch up with the kanji. He also could not read or write much English. We kept having meetings with the school to figure out how to help him, but it didn't seem to be working. During that walk, I realized that, as his mother, I was the one to teach him. Usually I would argue with God that I am not a teacher and my kids are not home-school-type kids (whatever that means). But a deep peace came over me. I knew that I loved my son more than any other teacher and that with that special love I was supposed to teach him.
The local Japanese school allowed him to attend art, physical education, and lunch at the school and then come home for the other subjects. He was happy he could still see his friends and be part of the class. Many people said that it was a miracle for the school to allow that. I agreed! When we went to America on home assignment, he was able to enter fifth grade without any English reading problems. We were overjoyed to watch him persevere and graduate from Japanese grade school on returning to Japan.
Being open to God's leading
Before I was a missionary I would plan five to ten years in advance for important things in life and usually followed through with the plans. I decided which college to attend in fourth grade, applied only to that school, and I eventually graduated from that school. I have changed. I'm now okay with leaving options open and reevaluating the education plan year by year, or sometimes more frequently!
Our journey so far with our four kids has included public and private schools in three different countries and languages, and, more surprisingly, one year of home school! Prayer has been my main resource over the past 16 years of parenting, and God has been amazingly gracious. We have had a lot of successes, but even in the apparent failures (like my Japanese language proficiency!), God is still working and seeks to be glorified.
Photo provided by author
Luann Nakazawa (US) lives in Tokyo with her husband, Shige, and their four kids serving with EFCA ReachGlobal as church planters. She loves a nice hike in Japan's beautiful woods, finishing with an onsen.