Resilience: How Japanese Pastors Can Thrive in Every Season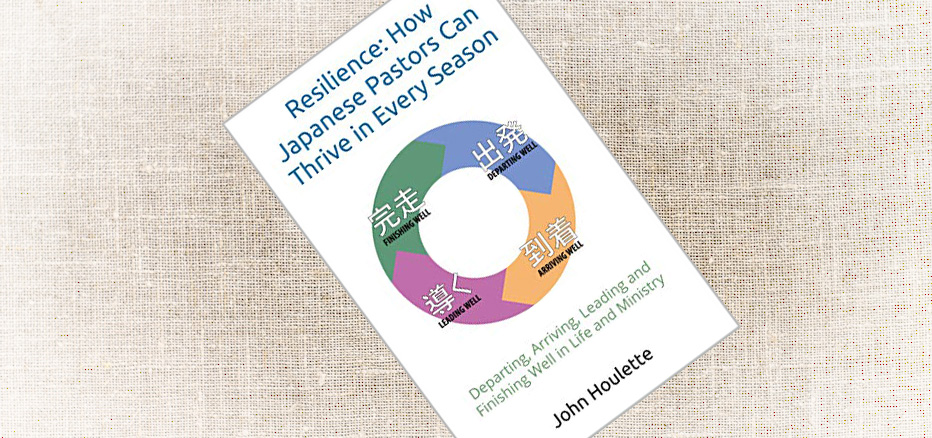 John Houlette (Three Stream Ministries, 2020). 175 pp.
John Houlette, Asian Access missionary and director of Three Stream Ministries, provides a practical guide for navigating transition through ministry. The book is divided into four parts: Departing Well, Arriving Well, Leading Well, and Finishing Well.
John has served in Japan since 1985, planted churches, led a mission organization, and now provides clergy care, training, and consulting for pastors and churches. This book will help pastors (and missionaries!) thrive and finish strong in life and ministry. John shares personal illustrations, interviews with Japanese pastors, surveys and stories of transitions, and a case study of Nehemiah. His love for Japanese pastors and churches shines throughout the book.
In part one, John reminds us that we must leave somewhere or something before we can arrive at a new location. He looks at identity in Christ, call, and seasons of life and ministry. Each chapter ends with discussion questions that can be used with an elder board or with other pastors. The final section introduces guidelines for pastoral succession for elder boards. John discusses the importance of writing a personal ministry plan for leaving well.
As my wife and I start our final term in Japan before retirement, John's book was an instructive guide to think through how to finish well. The book has been translated into Japanese (the title is 牧師のレジリエンス), published by Word of Life Press. John has helpful resources to go along with the book on his website (threestreamministries.com). This is a book that I will be giving to Japanese pastors.
Reviewer rating is 4 of 5 stars ★★★★☆