Book reviews for Summer 2020
The Broken Leaf / Operation Japan / Need to Know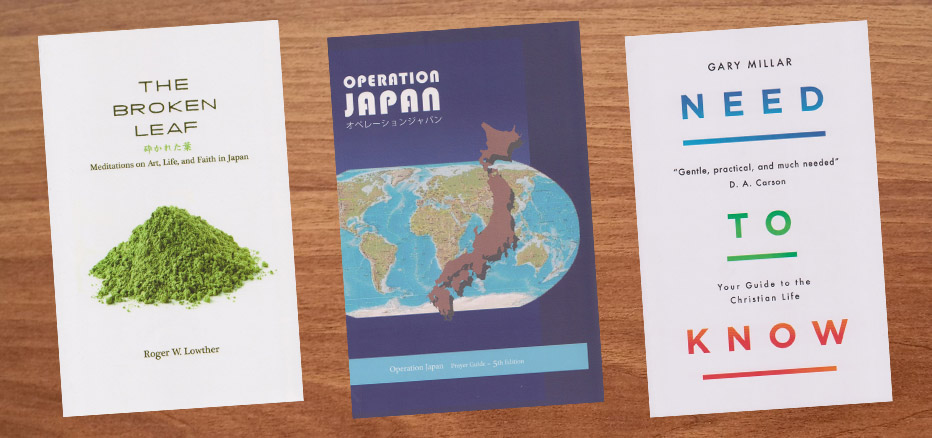 The Broken Leaf: Meditations on Art, Life, and Faith in Japan
Roger W. Lowther (Resource Publications WIPF, 2019). 49 pp.
Lowther, founder and director of Community Arts Tokyo and director of faith and art at Grace City Church Tokyo, has written a delightful book showing both the beauty and gospel images found in Japanese culture. He invites us to see, hear, taste, smell, and touch God in the Japanese context through ten short meditations. Meditations on the broken leaf (tea), the golden cracks (kintsugi), koto (Japanese stringed instrument), the Rainbow Bridge, pearls, and other cultural themes are interwoven with Scripture and help the reader see how God is found in Japanese culture. The book is elegantly written, well-researched, and includes a short bibliography. The book is being translated into Japanese and will be a very helpful tool for missionaries and believers in Japan who want to share the gospel with the Japanese people and show how images of God and parallels with the Bible are embedded in the culture.
Reviewer rating is 5 of 5 stars ★★★★★
---
Operation Japan: Prayer Guide, 5th Edition
Don Wright (2019). 105 pp.
Wright, former missionary to Japan, has updated this excellent prayer guide for Japan. Wright has been editor of the prayer guide since it was first published in 1997 and has updated this edition with the latest statistics. The book goes through each prefecture and gives information on the church situation, number of believers, and prayer points. Sixteen different themes are also addressed, including youth, social issues, and literature and evangelism. More careful editing and attention to details will further improve the next edition. This is a book that every missionary to Japan should have and pray through. As Wright notes on p. 3, "The prayer of believers is THE key to turning Japan to the light and love of Christ." This prayer guide will be a wonderful help to those who want to pray for Japan. It is available on Amazon and I will have copies to give to people as I travel to churches in the US this next year.
Reviewer rating is 4 of 5 stars ★★★★☆
---
Need to Know: Your Guide to the Christian Life
Gary Millar (The Good Book Company, 2020). 125 pp.
Millar, an Old Testament scholar and principal of Queensland Theological College in Brisbane, Australia, explains the basic principles of the Christian faith in a very practical way. He writes with humor and grace and shows what it means to live for Jesus in a way that will benefit every reader. He focuses on the essentials—what we really need to know if we are going to follow Jesus. We need to know the God of the gospel and live with him in the power of the gospel. Six biblically-based chapters cover the basics of the Christian life and show that life with Jesus is the best life there is. That is what we most need to know. Millar has recommended resources in each chapter and provided mentoring questions to help apply the truths of the book. This is a great resource for helping others follow Jesus.
Reviewer rating is 5 of 5 stars ★★★★★