The Sky Blue series
A new fiction series by a former missionary in Japan
By Karol Whaley (CreateSpace Independent Publishing Platform, 2017).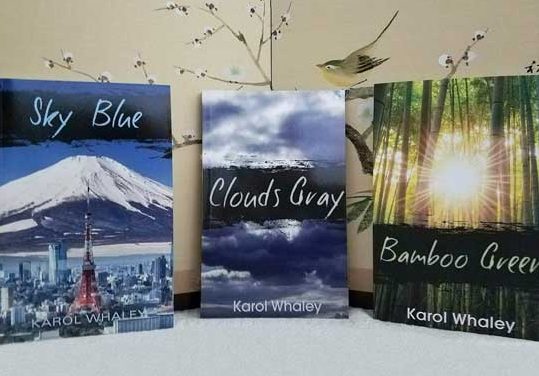 When I was asked to review these books, I was very interested. I love fiction (more than half my library is fiction). And the author, Karol Whaley, had been a missionary in Japan (mainly in Hokkaido) for over two decades. I wondered how she would portray the Japanese people. Though fiction, the story is based on the author's actual experiences in Japan—so in that sense it's very factual.
There are three books, but it's actually one story. They were all page-turners, and I really enjoyed the whole series.
Sky Blue is the first book in the trilogy. The main character, Eiko, moves from her home in Hokkaido to Tokyo to start work after finishing college. A series of God-planned events (some not easy to handle) cause her to think about spiritual things—her relationship with God and her family's traditions and beliefs. In the process, she becomes a Christian. This book is a good way to understand how the Japanese think, feel, and can be led to Christ.
Clouds Gray is the second book in the trilogy. The main character Eiko leaves her Tokyo job to return home to Sapporo, Hokkaido, for the New Year's holidays. This begins a time of testing for her. Since it is only a few weeks after her father's funeral, she asks her boss for extra time to be with her grieving mother and brother. She is able to share her faith in Christ with them. But just as she plans to return to her routine in Tokyo (which she loves), a skiing accident puts her in a hospital in Sapporo. But because of this, she is able to be of help and shares her faith with those who are in the same hospital room. This book is shorter than the first, so I read it quickly. I highly recommend it. As with Sky Blue, it almost seemed that the author sometimes thought of the Japanese word first and then tried to put it in English! I think that is the fate of all of us who know two or more languages well.
Bamboo Green is the third book in the trilogy. In this book, Eiko returns to Tokyo from Hokkaido, where she had been recuperating from a skiing accident. Returning to work, her church, her neighborhood, and her "boyfriend," she finds things falling into place. Meanwhile, in a park one day, Eiko hears the Lord whisper to her, "Eiko, you are like a bamboo plant. You will mature quickly if you continue to follow Me, and I will use you to bless others." She finds this to be true as she is the maid of honor at her best friend's wedding. Her neighbor becomes more interested in Jesus Christ. And a lady at work (to whom she had witnessed) starts coming to church. As an incurable romantic, I ended up crying a lot at how beautifully things were going. It almost seemed to work out too well.
One complaint I have about this trilogy is that Eiko goes very quickly from being unsaved to going to church to growing in the Lord and becoming a vital member of the church. Having been a church planter in Japan for nearly forty years, I thought things seemed to move too fast. But perhaps the author was just trying to show the steps one goes through to becoming a Christian and then becoming someone used of the Lord. Though the process might take a long time, it doesn't have to. That's encouraging.
I highly recommend the whole trilogy. Though it is fiction, it accurately depicts what a Japanese goes through as they hear the Gospel and respond to it. For those of us in Japan, it is a well-known story. For those who don't know how it is in Japan, it is a very good depiction and can be used to pray for us as we labor for our Lord in this country.