A 25-year tapestry
God wove together many threads in bringing me to serve in Japan today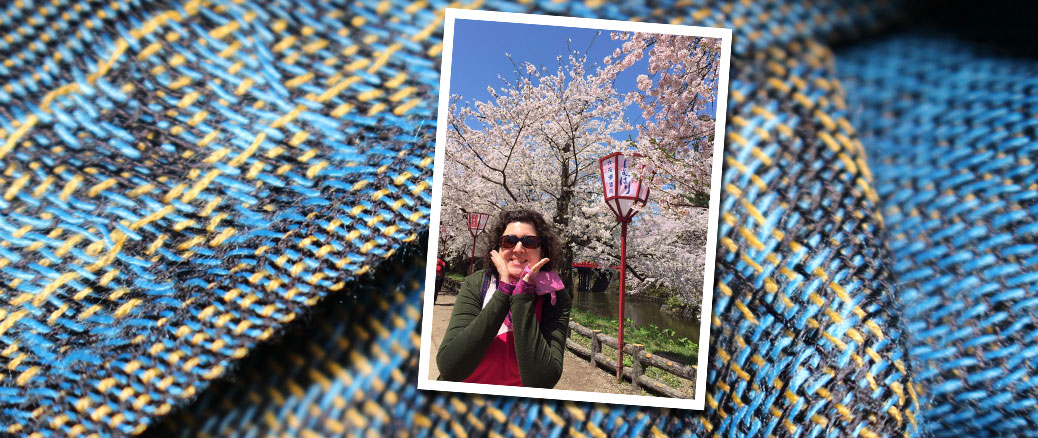 A‌bout to embark on my ninth trip to Japan, I was assailed by the same questions from my family and friends as I prepared to leave them once again: Why Japan? Do you think you will stay there long-term? Do you like Japan better than America? Will you ever live back stateside again? When will you be back home? Then I recalled members of my Japanese church saying "Please come back," weeks before I left for my first home assignment. "Of course, I will be back," I said.
Why Japan? And why am I always sure about going back? It's a long story—a 25-year tapestry woven by God who crossed the threads of my life and heart with those of the Japanese.
Thread 1: An academic opportunity
It all started about 26 years ago in 1992, when I was considering taking a foreign language in eighth grade. I wanted to be a businesswoman, and people around me were saying that, if I was interested in business, the future was in China or Japan. Ezra Vogel's bestselling book Japan as Number 1 was popular and Japanese was offered at my school, so I enrolled. This was the first step in what would become a lifetime study of and connection to Japan.
Thread 2: A love for an unknown culture
After studying Japanese for six months, I no longer wanted to be a businesswoman, but I had developed a love for the Japanese language and culture. Japanese was so different from anything I had seen or experienced before. Samurai, sushi, and kimonos were from a different world. No one could read what I wrote and they exclaimed, "Wow, you're so smart!" and "That's so cool!" Those comments kept this eighth-grader motivated to study the language. For two brief years, I studied the language and culture of a society that I had never experienced firsthand.
Thread 3: Going beyond the textbook
My high school had an exchange program and received Japanese students every April. So my first encounter with Japanese people came in the spring of my freshman year (9th grade), when eight Japanese students walked into my classroom. Almost a quarter of a century later, I am still friends with one of them.
During my sophomore year (10th grade), my family and I hosted one of the Japanese students for two weeks. I connected deeply with that group of students and I am still friends with them to this day. We also hosted girls during my junior and senior years (11th and 12th grades) and I became a "big sister" to a girl on another exchange program during my senior year.
Thread 4: A trip of a lifetime
The next life-changing thread came in the summer before my senior year, when I traveled to Japan for the first time. I got a scholarship with Youth For Understanding and traveled to Japan on a cultural exchange. On my application, I wrote about the students I had hosted. To my delight, they connected me with the family of the girl I had hosted my sophomore year. So there I was, in Japan for the first time, living with the future mayor's family, who were Buddhists, and attending one of the most elite high schools in Japan—a Buddhist private school.
This trip will forever remain engrained in my memory. It shattered my textbook stereotypes of the culture. I couldn't find anyone dressed in kimonos, and I had sushi only once during my stay. However, the language and culture I had studied for years were now alive, modernized, and evolving in front of my eyes.
Thread 5: Buddhism 101
Until I arrived in Japan, I had not known that the high school that my school had exchange programs with was Buddhist, nor that all my friends were Buddhists. For two months, I got to live the life of a Japanese school girl: wearing a uniform, catching a train, walking up a mountain to school, eating bento lunches, participating in after-school activities, and being a member of a class that stayed together all day. That intimate experience remains with me today as part of my identity, as do the lifelong connections made in that group.
I also had the twist of experiencing it in a Buddhist environment, with prayer beads, daily morning prayer chants over the intercom, and school-wide religious ceremonies for various events. All this was second nature to my friends. But I was a new Christian and I believed that one's faith was personal. I was Christian; they were Buddhist, and that was that.
I returned home to my senior year. There were no more Japanese classes I could take, so I took German and visited my Japanese teacher as much as I could. I attended a Japanese program at Princeton University before college, started studying Japanese at Wellesley College, and applied to be a foreign exchange student. I was accepted into the program at Japan Women's University and Waseda University and spent all of 1999 studying in Tokyo.
Thread 6: Japanese Christianity 101
For various reasons I had stopped going to church during college, and I was worried how much more my faith would slip going to Japan, as I didn't expect to meet any Christians there. But God had other plans. He placed me with a Christian host family. I grew up in a non-Christian home, so that was the first time in my life that I had had a family to go to church with, a family to pray with, and a family to live out God's Word with. I experienced the body of Christ in Japan and got glimpses into what it was like to be a Christian in Japan. I had been wrong—not all Japanese were Buddhists. There were strong, resilient Christians who were not willing to be hammered down by social pressures for being different.
Thread 7: Tentmaking, relief work, and long-term mission
I took my third trip to Japan directly after graduating from college. I worked as an Assistant Language Teacher through the JET program in Oita, Kyushu, for three years. While there, I worked as a tentmaker, connecting with a local Japanese church and a TEAM-run Japanese church. This experience and exposure to tentmakers and short-term, mid-term, and long-term missionaries led me to desire to come back as a full-time missionary.
I extended my contract the maximum of two times and returned to the States in 2004, with hopes of returning to Japan as a full-time missionary within two years. God had different plans, but brought me back seven years later as a Christian relief worker and support personnel through CRASH Japan for two months in 2011. This trip and experience connected my heart to Tohoku. Again I returned to the States and expected to return to Japan in 2012. But once again, God had other plans. In the summer of 2016, exactly 20 years after my first trip to Japan, I returned to Japan as a three-year associate through OMF.
Thread 8: God's faithfulness
Returning to Japan, a place I had come to consider home, took longer than I expected and things did not go as planned, but when I look back I see God's interwoven tapestry of how he led and prepared me to return to Japan. So when Americans ask me "Will you go?" the answer will always be "Yes." When Japanese ask me "Please come back." The answer will always be "Of course." And when either ask "Why?"—the answer will always be "God." My life and the connection and love I have for God and this country are deeply interwoven; it is a 25-year-old tapestry that I lay at his feet and trust his hand to finish.
Author portrait photo from Facebook profile, used by permission