A homeschooling community in Japan
Classic Conversations provides a community for homeschooling families and an opportunity to minister to Japanese people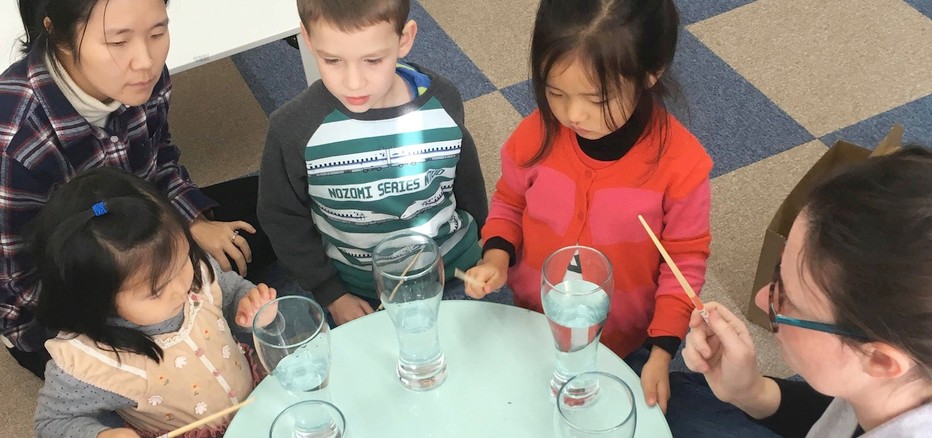 Have you considered that the answer to 2+2 never changes? Or that the square root of 144 is always 12? What can this constancy teach us about the Creator of our world, the designer of arithmetic?
"Jesus Christ is the same yesterday and today and forever" (Hebrews 13:8 NRSV).

"Every good gift and every perfect gift is from above, coming down from the Father of lights, with whom there is no variation or shadow due to change" (James 1:17).
What do other subjects have to teach us about our Lord? There is far more to be uncovered in our pursuit of truth and knowledge than just equations and definitions. When I teach my children, I get the opportunity to consistently remind them of the truth of Scripture, the gospel message, and the implications of living in a world created by God. As a missionary mom, I have found that homeschooling not only benefits my own family, it also has great potential in Japan as a ministry opportunity.
My husband and I originally began homeschooling because we wanted a flexible Christian educational option. Life during missionary deputation in the United States was full of unanswered questions regarding when and where we would be moving, so we wanted to be able to set our own academic schedule and teach from a God-centered curriculum regardless of what the future held. After moving to Japan, we continued with this method, and also started a homeschooling community in Osaka. Speaking with other parents, we discovered many reasons Japanese families might see homeschooling as an attractive option:
Christian families may prefer a Christian teaching method and curriculum.
Families with special needs or gifted students may need a method of schooling uniquely adapted to each child.
Kids who have suffered from bullying may no longer be able to pay attention to their studies within the public school system if they do not feel safe.
Homeschooling takes less time than the average full day of public school, freeing up several more hours in the week for other needs, such as ministry, recreation, or rest. While we do maintain a family routine, there is less stress in our day because we can move things around as needed. The timing of our lessons can be adjusted, and the material can be adapted to each individual child. Our children benefit from being able to push forward in their studies or slow down as needed.
Integrating education throughout all aspects of daily life can better promote critical thinking and a continual desire for exploration. Our children have begun to learn alongside us. They ask a lot of questions, and sometimes we answer their questions with an "I don't know yet. Let's find out," exemplifying the goal of continuous learning throughout one's lifetime. This way children learn the value of pursuing truth and knowledge.
While homeschooling is an excellent option for many families, it can seem like a daunting task for the newcomer. Deciding what curriculum to use, spending time learning how to teach the material, finding desired supplemental or extracurricular activities, and potentially having to balance multiple programs for different age levels can appear rather daunting. We decided early on that we needed a homeschool community that would provide a way for us as parents to encourage and support one another in this worthwhile task. Thankfully, we found that in Classical Conversations.
Classical Conversations (CC) is a Christian community of homeschooling families using the classical method—a proven format used by Aristotle, Thomas Jefferson, Shakespeare, and many other great historical thinkers. Once a week we gather together to learn and encourage one another. Parents, together with their students, enjoy in-person example lessons designed to help them succeed as teachers while the children actively engage in learning with other homeschooling students. CC provides parents and students with the tools and support system to succeed in homeschooling from kindergarten all the way through high school.
When our family joined a Classical Conversations community, we found a group of parents who were experiencing the same joys and difficulties we were going through. Together we celebrated our kids' achievements and weathered their struggles. We gained knowledge, understanding, and wisdom, while worshipping the God who created these treasures and designed humans to draw near and know him. We found a curriculum that was easy to use and discovered that the classical method was perfectly aligned to the way our children's minds naturally develop; this eased the burden of acquiring knowledge. This will also aid them as they move towards adulthood, helping them to grow into young people who not only know things, but have the character and skills to share that knowledge and confidently defend their beliefs in a world which challenges them.
When we moved to Osaka as missionaries, we were excited to start a Classical Conversations community here as part of our ministry. The aim of the Classical Conversations Osaka community is to know God and to make him known in Japan through a twofold approach: helping Christian families educate their children from a Christ-centered foundation and opening the community to those who have not yet heard about Jesus. All families are welcome—Christian or non-Christian, Japanese or non-Japanese, experienced homeschoolers or those new to it all. We learn together by memorizing truth, exploring creation, discussing logic, and cultivating a Christlike character.
We heard from some families that they would love to homeschool if only there were a Christian curriculum available in Japanese. Consequently, we are working alongside a translation team to produce a Japanese version of the Classical Conversations curriculum for 4-12 year olds. We are hoping to provide this resource by the end of this year, and we aim to establish Japanese-speaking CC communities throughout Japan in the near future.
Families in the Kansai area are welcome to join the CC Osaka community, and there are tutoring positions available for those who want to serve in Osaka. You can apply to direct a Classical Conversations community in your own city as well. This is an excellent ministry opportunity with a worldwide network to equip and help you succeed in any location.
There are other Classical Conversations communities on US military bases in Japan, including Okinawa, Iwakuni, Yokosuka, Yokota, and Zama. A new community will hopefully be opening soon in Tokyo as well. For more information about Classical Conversations or homeschooling in general, there are great resources on classicalconversations.com.
Connect with us at https://facebook.com/ccosaka or email us at ccosakacommunity@gmail.com.