Book reviews for Autumn 2016
Silence and Beauty / Shutting Out The Sun / The Essence of Shinto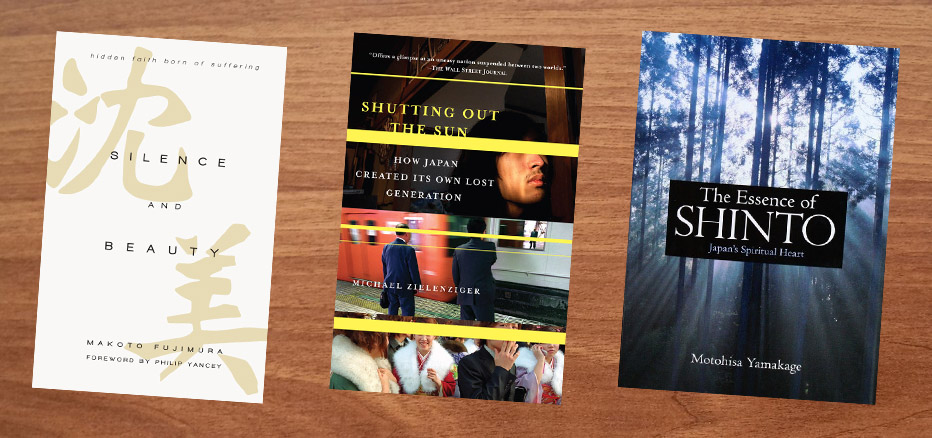 Silence and Beauty: Hidden Faith Born of Suffering
Makoto Fujimura (IVP, 2016, 263 pp.)
Martin Scorsese's film Silence, based on Shusaku Endō's novel of the same title, will be screened in theaters from December 2016. Makoto Fujimura's new book Silence and Beauty is now available in anticipation of this release and a Japanese translation is due to be published later this year.
Endō's Silence is a dark and depressing novel, full of persecution of Christians, betrayal of faith, ineffectiveness of missions, and God's apparent silence in the midst of suffering. But it is a must read for all missionaries in Japan—Silence and Beauty tells us why.
Silence and Beauty is a profound reflection on Endo's book, but it is also much more. Fujimura, a Japanese–American artist, takes us through his personal journey of understanding the gospel in Japan, which led to his eventual conversion. Drawing heavily on Japanese history and arts (especially the writings of Kenzaburō Ōe and Yasunari Kawabata), he helps us understand the essence of beauty in Japan—a beauty he says is born of pain and suffering.
Fujimura shows, through Endō, that Christianity in the Japanese context is not about the triumph of faith but rather about the brokenness of this world pointing us to Christ, and that Japanese concept of beauty reveals unique insights into the gospel. This book was not written specifically for missionaries in Japan, but it may as well have been, since it asks questions such as: What is the role of Christians and missionaries in Japan? What could and should the Japanese church look like? And, what is the role of the arts in church planting in Japan?
Silence and Beauty challenges our view of missions and the church in Japan while also giving hope in the power of the gospel. I believe it to be one of the most important books in print for missionaries in Japan today. It is my hope that it will spark many conversations among us as we read it and serve together, endeavoring to unveil the gospel of Christ to this great nation.
Reviewer rates it 4.5 out of 5 stars ★★★★½
Brief reviews of other resources
Shutting Out The Sun: How Japan Created Its Own Lost Generation
By Michael Zielenziger (Reviewer: Mel Jessop)
Paperback, Vintage Books USA, Sept. 4, 2007
Shutting Out The Sun focuses on how the unique situation of Japan's history, politics, economics, culture, and social expectations have come together to create the social adjustment disorder known worldwide as hikikomori.
The author, a journalist, built relationships with a handful of young men with hikikomori and their intimate interviews bring depth, life, and insight to the sensitive issues many with hikikomori face, and give the reader a perspective that is not usually shared.
Zielenziger also interviewed medical professionals, social workers, parents, volunteers, and people who once suffered from hikikomori. This breadth of opinion and expertise paints a picture of the broader social issues at play and the varied approaches and responses to hikikomori. It also shows the personal issues faced by people with hikikomori.
The author's thorough analysis of the economic and political influences is interesting, well written, and thought provoking. I enjoyed reading this book and highly recommend it to anyone hoping to gain a deeper understanding of some of the challenges in Japanese culture today.
The Essence of Shinto: Japan's Spiritual Heart
By Motohisa Yamakage (Reviewer: Mark Gelsthorpe)
Kodansha USA, Sept. 7, 2012
This book is written by a Shinto priest (kannushi) with the aim of explaining Shinto to a Western audience. He presents interesting parallels between Shinto and modern thinking such as self-improvement through meditation and environmentalism.
Shinto practice is described as the attempt to realise the kami-nature (god-nature) within all of us. Yamakage writes that the lack of doctrine and scripture in Shinto allows worshippers a great freedom in the way they worship. He explains there is no concept of sin but a strong emphasis on self-improvement, which continues beyond death.
It is striking how Shinto appeals to experience over the rationalism we often rely on in the West. While this book doesn't cover how deeply ingrained Shinto is in the thinking of ordinary Japanese people. I would recommend it to those who want an easily accessible introduction to the subject.