Book reviews for Autumn 2020
Understanding Japanese Society / Finding the Right Hills to Die On / How Can I Love Church Members with Different Politics?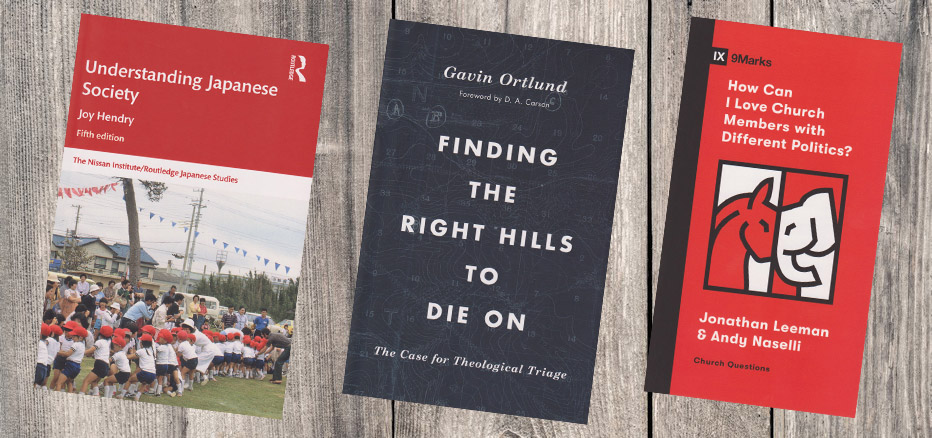 Understanding Japanese Society
5th edition. Joy Hendry (Routledge, 2019). 316 pp.
I used the fourth edition of this book for a course on Japan I taught at a Bible college in 2016. British anthropologist Hendry has updated this excellent introduction to Japanese ways of thinking. This edition is 81 pages longer and includes the contributions of 12 scholars who have written short pieces from the field on the topics of the book. Hendry moves "from a discussion of small social units, such as the family, school and neighbourhood, experienced by any member of Japanese society . . . to larger institutions like companies, places of amusement, parliament and courts" (p.3). Each chapter ends with suggestions for novels, films and further reading. Hendry wants "to provide details about life in Japan, which all Japanese know because they were brought up here." She looks at "the symbolic aspects of Japanese behavior, the non-verbal ways in which members of Japanese culture communicate with each other, and particularly the ritual behavior in which they participate" (p. 5). Hendry has devoted a lifetime to anthropological discovery in Japan. This is the book to read if you want a deeper understanding of the Japanese people.
Reviewer rating is 5 of 5 stars ★★★★★
---
Finding the Right Hills to Die On: The Case for Theological Triage
Gavin Ortlund (Crossway, 2020). 163 pp.). 316 pp.
Ortlund, pastor of a Baptist church in California, begins by looking at two opposite errors (doctrinal sectarianism and doctrinal minimalism) to give a framework for thinking about the importance of doctrine. He shares his personal experience of changing his thinking on several doctrines, including baptism. The virgin birth and justification by faith alone are two examples he discusses of primary doctrines worth fighting for. Ortlund says we need wisdom and balance as we navigate the complexity of secondary doctrines. These doctrines are not essential to the gospel, but they are often important enough to justify divisions at the level of a denomination or church. For examples of these doctrines, he looks at baptism, spiritual gifts (continuationism vs. cessationism), and complementarianism vs. egalitarianism. In his chapter on why we should not divide over tertiary doctrines, he looks at the millennium and days of creation. He has words of challenge here about being strong enough not to fight on these issues. He concludes with a call to theological humility. This is a helpful guide on how to exercise godly judgment on what the Bible teaches as matters "of first importance" and where we should allow for differences of opinion.
Reviewer rating is 5 of 5 stars ★★★★★
---
How Can I Love Church Members with Different Politics?
Gavin Ortlund (Crossway, 2020). 163 pp.). 316 pp.
This short booklet is packed full of wisdom. Christians often disagree on political matters. How do we respond to those to our right or to our left on the political spectrum? Leeman and Naselli remind us that our basic (fallen) posture is to always think we are right, to think that our cause is just: "Christians might agree on a biblical or theological principle but disagree on which policies, methods, tactics, or timing best uphold the principle" (p. 18). They have six practical recommendations on how to get along with those who have different politics. Although written from a North American perspective, this booklet will help all who differ with others as we remember to humbly listen to those who have a different perspective. They list 16 ways pastors can work for unity in politically divisive times and end with some recommended resources. They have also written an article for church leaders on the topic available here: https://www.thegospelcoalition.org/themelios/article/politics-conscience-and-the-churchion.
Reviewer rating is 5 of 5 stars ★★★★★