Christian young adults strive toward peace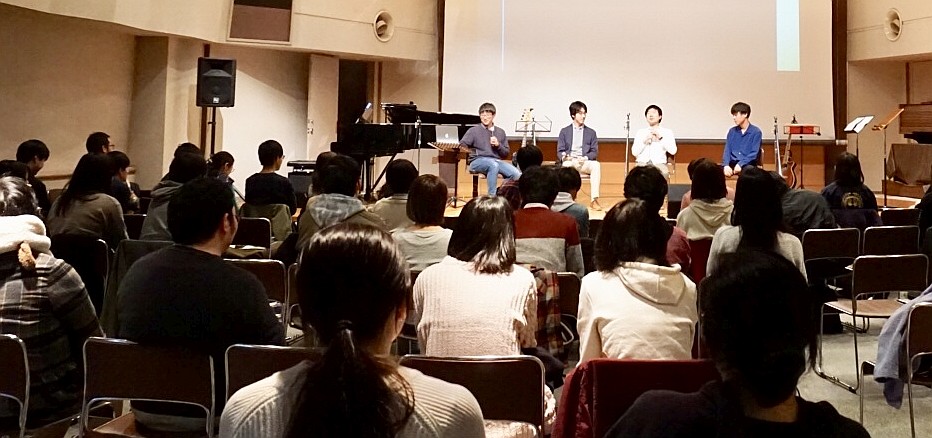 The young adult version of the International Theological Symposium on the Great East Japan Disaster (ITS) took place in Tokyo for the second time on February 4, 2019. The original ITS was first held in 2012 in response to the Great East Japan Earthquake of March 2011, and the young adult subgroup first convened in 2018.
Organizing the symposium
This year it was once again jointly organized by three student ministry organizations that cover a range of denominations—Aoyama Christian Fellowship (ACF), Kirisuto-sha Gakusei Kai (KGK) and Student Christian Fellowship (SCF). The theme for this year's gathering was "Shalooooooooom!!" (based on the Hebrew word for peace).
Atsuyoshi Fujiwara, a professor at Aoyama Gakuin University, was instrumental in establishing the young adult division of the ITS. He said, "Non-Christians affected by the 2011 disaster thought of all Christian relief workers simply as Christians, no matter what church or denomination they were from." He shared his hope that young Christians would develop connections that go beyond organizational boundaries as they gathered to praise God, serve him, and eat together.
In his opening address, KGK's Makoto Ogawa revealed how the planning team settled on the theme of "shalom". While exploring ways to work together across denominations, members of the planning team asked themselves whether shalom and loving relationships abound within local churches. Ogawa encouraged panelists to share their experiences honestly, even if they were negative ones, with an ultimate focus on God, who can heal all wounds.
Panel discussion and lecture
A panel of four college and seminary students (one moderator and three presenters) discussed shalom within the local church. They candidly shared their views and experiences, which included discord in their own churches, struggling in a cultic-church environment, a pastor being criticized by church members, and the ups and downs of a church selecting a new pastor. The students also talked about how to discern God's will and how they regard the duties of members within the church. The final question the panel addressed was about how to foster shalom in the church. In response to this the panel noted the importance of unity in worship, and the necessity of praying for the pastor and the church.
Following the panel discussion, Professor Fujiwara gave a lecture. He defined "shalom" not merely as the absence of war, but as a state where people enjoy peace of mind, stable relationships and finances, and good health. To realize shalom, he encouraged the audience to love both God and people, as well as forgive their neighbors, in line with the Lord's Prayer. He also reminded them to keep their eyes fixed on Jesus, whose sole motivation is love.
The event concluded with Taku Noda of SCF praying for shalom among Christian young adults and within local churches.
From Christian Shimbun, February 24, 2019
Translated by Atsuko Tateishi