Digitally equipped for earthquakes
Here are three emergency smartphone apps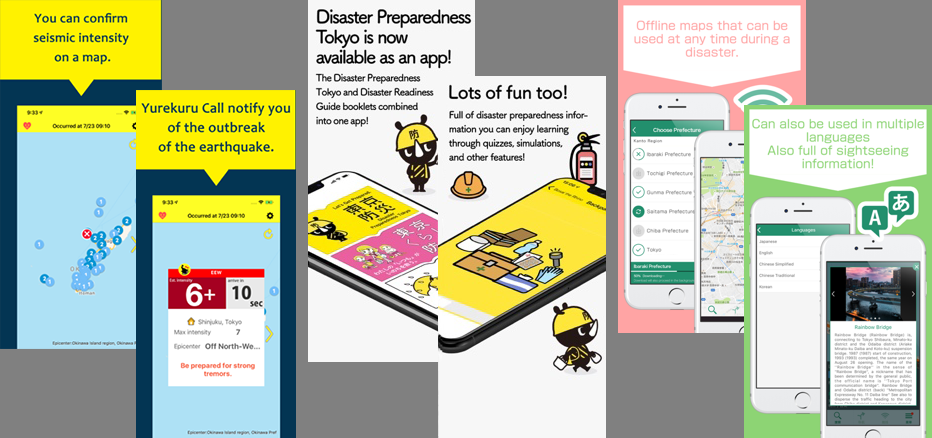 This is a review of three apps for smartphones that can help with disaster alerts (QR codes are included for easy download on iOS or Android devices).
Yurekuru Call
Probably the most popular app I know, Yurekuru Call is reliable and straightforward. It does all the things you want an earthquake app to do: it alerts you before a quake (generally 10–15 seconds), shows you the epicenter, and indicates the affected areas. This app also provides helpful instructional notes and visuals on topics concerning disaster prevention and what to do in various situations. It offers some good customization as well. My favorite feature is being able to select the level of seismic activity I want to be alerted about. My threshold for concern in earthquakes is around level four. Since quakes up to level four are regular occurrences, I don't want to be unnecessarily freaked out by numerous alarms from my disaster app. That's not good for my health! You can also set specific locations to watch, making this a good tool for those outside of Japan who care about you and want to be better informed when disaster strikes. The basic Yurekuru app is free. A monthly subscription removes ads and unlocks some extra features, but, in my opinion, it is not worth it as the core functions of the app are free. Most of this app is available in English.
Disaster Preparedness Tokyo App
Don't be put off by this app's name if you don't live in Tokyo—everyone can benefit. It's a fantastic resource for individuals and families to make sure you are trained to deal with disasters. The app sends notifications about disasters, but it is primarily designed to teach and equip by providing knowledge and stress inoculation. It has three modes: Disaster Preparedness Tokyo mode teaches about prevention and disaster response; Disaster Readiness Guide mode offers daily prevention measures; and Disaster mode includes features for safety confirmation and a disaster map. This last mode can be used during an actual disaster.
The best part of this app is that it can be used and enjoyed as a family. Do you have a practiced plan for when disaster hits? This app makes that preparation fun! The cute little mascot rhino, Bōsai, guides you through engaging and interesting activities, quizzes, simulations, and more. It is free and has a tablet version too, which makes training the family easier. It is also completely available in Japanese, English, Korean, and traditional and simplified Chinese.
Pocket Shelter (Pokéchez)
Like the apps above, Pocket Shelter offers alerts and earthquake details, but it also offers offline maps. Bottlenecks in data networks, electricity, and communication during disasters can significantly restrict how you can use your phone when you need it most. With the offline maps feature of this app, you can see a map of your area without needing internet access. The map shows critical locations like evacuation zones, hospitals, earthquake-resistant structures, shelters, and water stations. Although we should all be aware of these things, it is good to have a safety net. This app offers a navigation function like Google Maps too. (This map can also be used for sightseeing, making it a great app if you have guests or teams visiting and want to knock out both emergency precautions and general navigation in one shot.) The map includes public transit spots, parks, restaurants, stores, and other points of interest. This app is free with no paid content. It is also completely available in Japanese, English, Korean, and traditional and simplified Chinese.
I have just scratched the surface in terms of the functionalities of these three apps. You can learn more about them by spending time exploring them. I encourage you to talk with your friends and those in your networks about the apps they use and share these three apps with them. As believers, we should be ready for disaster so we can best minister to those around us in time of need. We have seen that disasters open people's hearts to the gospel, so the better prepared we are, the better chance people can hear and receive the good news.