From returnee to missionary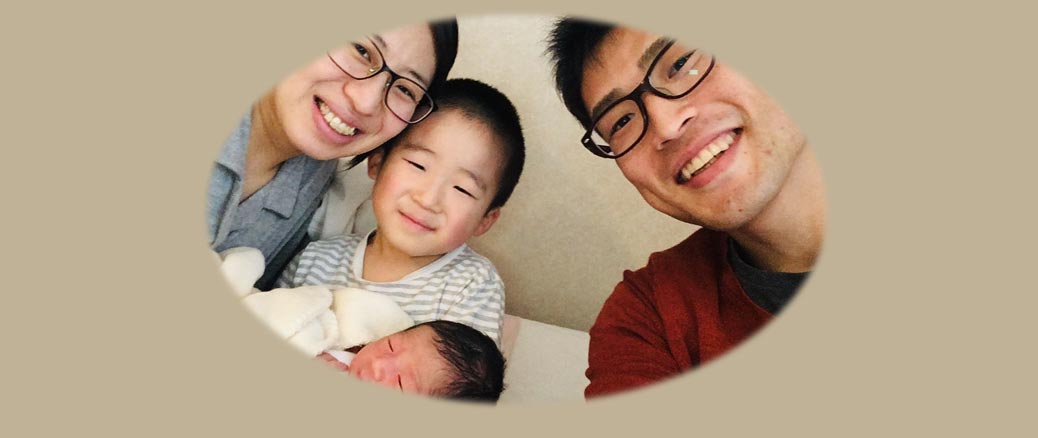 M‌y non-Christian father became furious when I told him about my call to be a missionary. He yelled, "I never sent you to New Zealand only to have you become a Christian missionary!"
I'm a missionary at Minemachi Christ Church in Utsunomiya, Tochigi. After completing training in New Zealand in 2019, my family plans to be sent by Operation Mobilization to Linz, Austria. We will join the Building Bridges ministry team, which works among immigrants and refugees to deliver the gospel.
The darkness descends
I grew up in a normal Japanese family that had nothing to do with Christianity. My family valued the Japanese traditions and rituals related to Shintoism and Buddhism. My parents and grandparents also believed in education, and pushed me and my two younger sisters to study hard. However, I gradually became rebellious and spent my teenage years with delinquent friends. But the "fun" didn't last long—life became hard when I was 16 years old. I tried to fix myself through psychology, philosophy, and Japanese religions, but nothing really worked. Life lost its color and my inner emptiness grew stronger. Struggling with hopelessness, I became suicidal. For about a year and a half, I suffered insomnia at night and stress caused me to have bloody stools. I increasingly suffered from unexplainable and unbearable fear.
One night, I decided to seek help from some supernatural power and went to the graveyard of my ancestors. I stood before the gravestone in darkness and cried out for help, but life became worse and I was in despair. I finally concluded that the only way for me to be released from stress and hopelessness was to die.
When riding my bicycle one night, I came to an intersection and felt a sudden impulse to commit suicide. I entered the intersection, and a red car passed by very fast, narrowly missing me. I found myself crying uncontrollably as my parents' faces sprang to mind. Though I knew dying was the only solution, I found myself afraid of dying. All I could find was darkness.
Encountering God in New Zealand
Around the same time, during my high school years, my father—who wasn't fully aware of my situation—got to know Alayne Madore of M.I. Studies Abroad. She suggested I go to New Zealand to study English, which was agreeable to my father since he foresaw future opportunities overseas and wanted me to become proficient in English. When my father asked me if I was interested, I said yes. I thought: "If I stay here, I'll probably try to commit suicide again and might succeed. So before ending my life, why not see the world a bit? And if I still want to die, I can do so after coming back."
My path after high school was confirmed, but I still wasn't very motivated. Alayne organized everything and my destination was Christchurch, which sounded very religious to me. In March 2003, I arrived in New Zealand at the age of 18, but life was so different there. My situation suddenly became predominantly Christian. My homestay parents were Christians and were hosting another student from Germany, who was also a Christian. My language school had very strong Christian values. Many of my school friends were believers in Jesus Christ. I later found out that Alayne had initially come to Japan as a missionary! I felt I was trapped by some kind of bigger being.
My fellow homestay student, Richard, had a friend, Alex, visiting from Germany. I really enjoyed spending time with them as they were not only fun, but also kind and patient despite my poor English. However, one thing I disliked was that they were always telling me about Jesus. I had never heard about him before. The night after Alex went back to Germany, Richard started sharing his testimony. I initially thought, "Oh no, not Jesus again," but I became fascinated by how Richard had come to believe in Jesus and how his life had been changed. I wondered if Jesus could change my life too. That night, I put my faith in Christ, although I had very little understanding of who he was or what the Bible taught.
Thus began my journey of discovering God. One day, while at the youth service of a local church, I saw a group of young New Zealanders worshipping Jesus wholeheartedly. Their attitude challenged my faith. I remember thinking: "I claim to be a Christian, but I don't know Christ like they seem to." At that moment, the pastor invited anyone who wanted to know Jesus Christ personally to come to the front. I went to the front and was prayed for. I had a burning desire to really find God. For the first time in my life, I poured out my heart to God, and that prayer was the turning point of my life. I truly came to understand that, out of love, Jesus Christ died in my place for my sin. A verse that spoke to me was: "For God so loved the world, that he gave his only begotten Son, that whosoever believeth in him should not perish, but have everlasting life" (John 3:16 KJV). I couldn't hold back my tears. I had always known the only way for me to be set free from all my despair and fear was to die. But Jesus died in my place so that I can live and be free. The good news was tremendously shocking. I gained so much hope and joy for life.
A call to missions
If I hadn't met the Lord Jesus, I would either be dead now or living in darkness. I knew he had kept me alive, so I wanted to live this "second" and new life for him. The work of missionaries fascinated me, and I soon found myself surrounded by missionaries. While doing a devotional at my missionary friend's house in Christchurch, I flipped the pages of the Bible and it opened at Genesis 12. I was deeply touched by the story of Abraham following God without knowing where he was going. After praying that I would walk closely with the Lord like Abraham did, I received a call to be a missionary to German-speaking nations.
I made an international call to my non-Christian father and told him of my call and decision. He was furious. I had much opposition from my family. For years, they pressured me to give up my faith, and my sisters mocked it. However, my father came to believe in Jesus as his Savior just two months before he passed away. My youngest sister's life was miraculously spared in a near-death experience, and she too came to believe in Christ. My grandfather and grandmother also put their faith in the Lord.
After eight years of living overseas, I came back to Japan and married a girl I had met at the Japanese church in Christchurch. Coming back here was very difficult due to the high speed of life and the high-pressured society. I experienced reverse culture shock, but the Lord graciously led me to missionaries to Japan, who helped me adjust to Japanese life and stand up for my Christian faith despite the many temptations to neglect it. I can't thank the missionaries in Japan enough because they are a big blessing not only for Japanese people in general, but also for returnees who find it difficult to live the Christian life, especially if they became believers overseas.
My wife and I have been blessed with a five-year-old son and a baby girl born in January. We will soon leave Japan to serve as missionaries overseas. All this is the work of our amazing God, and we are so privileged to be part of his mission.
We are deeply thankful for the prayers, work, and sacrificial love of Japan Harvest readers and all God's people who work for the salvation of the Japanese. I know there is (or will be) a Japanese person like the former me in your life who desperately needs the love and salvation of Jesus Christ, though they might not know it yet. May the glory of our Lord shine through you!
Photo submitted by author
Akihiro Yabe and his wife Sachie are returnee Christians blessed with a son and daughter. They have been accepted to serve as missionaries with Operation Mobilization.