Gospel group from Kansai encourages boys saying "You can make a fresh start"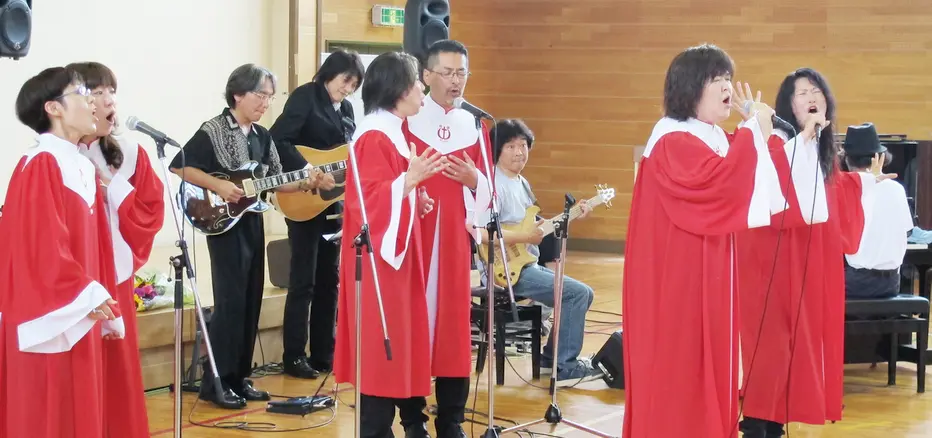 On July 27, last year, "Without You" a gospel group from Kansai, was awarded a Ministry of Justice award at the Nara Reformatory. They are the first gospel group to be given this award. In 2012 the Ministry of Justice Osaka Regional Correction Headquarters also awarded the group the 62nd "Campaign that Brightens Society" award. These awards come from the group's endeavors to encourage the prisoners at reformatories and prisons through gospel music.
Without You formed 14 years ago and their passion is to bring hope to the broken-hearted. They share a message from God saying, "You are needed."
How can one draw close to the wrongdoers? Their answer was gospel music. Tetsuho Nishiyama, the leader of Without You said, "The children in the reformatory distrust adults. When they were in need of help, there weren't any trustworthy adults. So we represent society and say to them, 'We support you, and we apologize for not being able to respond to your S.O.S. call. But now, a new story is going to begin. Life can have a fresh start. God has a wonderful plan for your life.' "
Written feedback from the inmates at reformatories they visited is full of gratitude and respect towards the group. Many of the boys had poor home environments. No one had ever said to them "you are needed." But through Without You they can realize there are people out there who are supportive of them.
"Juvenile Law is becoming more punishment-oriented. A reformatory is essentially a rehabilitation facility. However, even though teachers on-site strongly desire to give good quality education rather than punishment for the boys, it is becoming a place of punishment, like a prison," Nishiyama explains.
Another member of the group, Tetsushi Yamasaki, stressed the need of society's acceptance saying, "The most important time is after the boys return to society." If they have no place or work to go back to, there is a high rate of repeating an offence.
"Society's trend is to isolate and monitor a person who committed a crime. I want to see a society where those who went astray can have a fresh start. What a person has done, and what his value is, are two different things. I want to learn from Jesus who welcomed the prodigal son."
Youichi Sakai, another member, says, "This ministry has been done with much guidance from God and prayer. I think each and every thought and prayer has led to this award." 
From Christian Shimbun, December 1, 2013
Excerpt translated by Tim Williams