Overcoming the chain of hatred and vengeance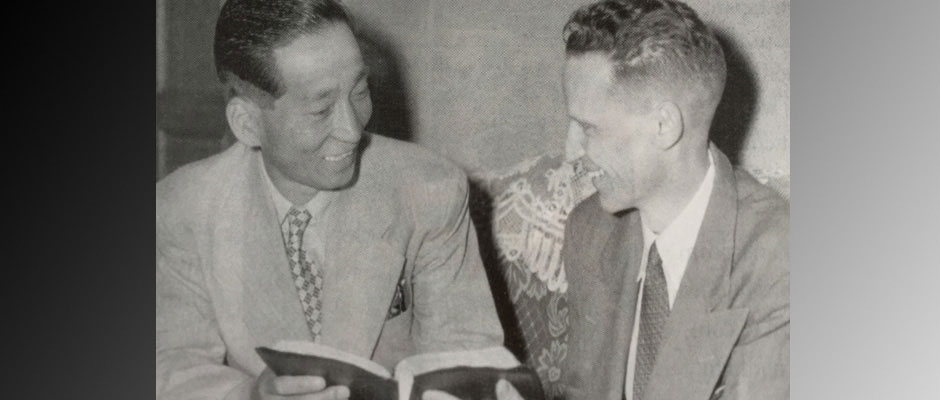 A special NHK program, Futari no Shokuzai Nihon to America—Nikushimi o Koete (The Atonement of Two—Japan and America—Moving Past Hate), was broadcast August 15, the Japanese end-of-the-war memorial day. The program revealed a fascinating true story of two soldiers who fought with enmity towards opposing countries during WW2. The story began on December 7, 1941, when Japanese Navy commander Mitsuo Fuchida coordinated a surprise attack on Pearl Harbor. Jacob DeShazer, an airman in the US Army Air Corps, heard of this tragic news at home and it stoked his animosity toward Japan. On April 18 of the following year, DeShazer bombed Nagoya with his crew. Both men later became Christians and ultimately became missionaries to their former enemy countries. They also had a "fateful encounter" with each other after the war. As NHK commented on their website, this story delivers a strong message to our present world that is locked in the "chain of hatred and vengeance."
After WW2, Fuchida was introduced to Christianity in a rather mysterious way. While trying to gather proof of the misery Japanese captives experienced at US internment camps, he unexpectedly heard of Margaret Covell, and her parents who were missionaries in Yokohama before the war. When war broke out, Covell's parents evacuated to the Philippines, only to be found and beheaded in 1943* by Japanese soldiers. When Covell heard of her parents' death and how they were praying even as they faced their end, she felt convinced that her parents' will was for her to love, not hate, the Japanese people. Covell chose to serve Japanese captives in US internment camps, and she served with dedication. Fuchida was moved by this story but was left wondering what kind of prayer the missionary couple prayed as a Japanese sword took their lives away.
After bombing Nagoya, DeShazer and his crew were forced to bail out over China when their aircraft ran out of fuel. They were taken captive by Japanese soldiers. Torture at the prisoner of war camp caused his hatred toward Japan to increase even more, until one day he recalled stories about Jesus he had heard as a child. He requested a Bible, and as he read it he was completely transformed. DeShazer confessed his sins, and the strong hatred he held toward Japan turned into compassion. He prayed, "Lord, send me to Japan as a missionary once this war is over," and his prayer was answered.
"Lord, send me to Japan as a missionary once this war is over."
A few years later, in 1949, Fuchida was handed a small pamphlet in front of Shibuya station—the testimony of DeShazer, called "I was a prisoner of Japan." Realizing how it all started with his attack on Pearl Harbor, Fuchida took interest in DeShazer's faith and started reading the Bible. When he happened upon the prayer Jesus uttered when he was on the cross, "Father, forgive them, for they do not know what they are doing," Fuchida was deeply moved, realizing this must have been the same prayer the Covells prayed when killed—a prayer of love for their enemies. He realized he himself was also a sinner who had to be forgiven, and that Jesus Christ had died for him.
Later in his autobiography, Shinjuwan Kōgeki Sōtaichō no Kaisō (For That One Day: The Memoirs of Mitsuo Fuchida, Commander of the Attack on Pearl Harbor), Fuchida credits his transformation as coming from the Lord's revelation and not man's. He also commented that justice and righteousness belongs to Jesus and cannot be measured by man's standard.
As long as the chain of hatred and vengeance lingers, "safety" may be earned through somebody's sacrifice but no true peace will come. In this present day, war is perceived as necessary self-defense and is disguised as patriotism. This story of two men may be a chance for us to meditate on the true meaning of loving our country and what the Bible teaches us about it.
From Christian Shimbun, August 14, 2016
Translated by Hiromi Kiuchi
* corrected from 1945 in earlier posting
Photo by fair use: http://www.nhk.or.jp/docudocu/program/46/2586830/