People with visual impairment and the pandemic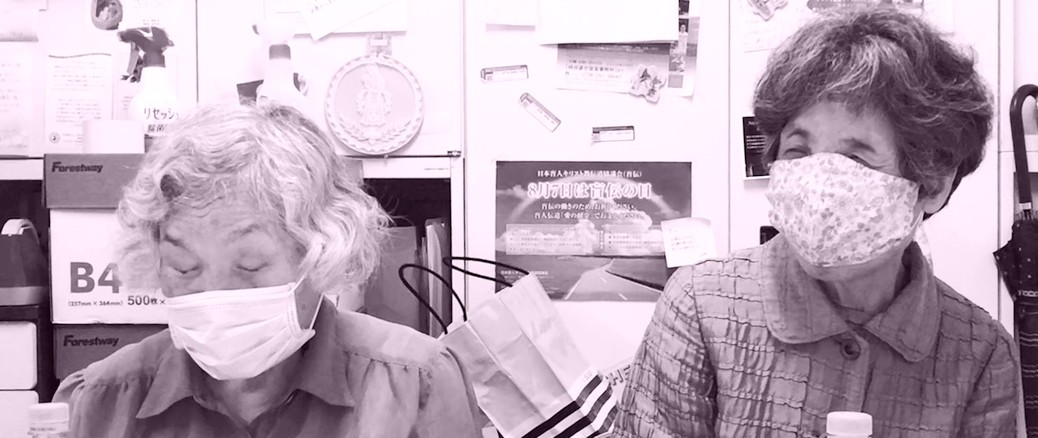 Challenges and opportunities
While COVID-19 was spreading in Japan, especially in the Tokyo metropolitan district, how did life change for people with visual impairment? In Tokyo on July 16, at the "Japan Mission Conference for the Visually Impaired" (known as Mōden), two churchgoers with visual impairment, Ms. Haruko Nishiyama and Ms. Taeko Kimura, talked about their circumstances.
Nishiyama (a member of Shinsen Church, the United Church of Christ in Japan or UCCJ) said, "Almost all of our life depends on touching, but we have been asked not to touch too much. Wearing a mask is troublesome, too, as we make full use of the feelings on our skin to walk unassisted."
Kimura (a member of Shitaya Church, also UCCJ) said, "Because we cannot see, we can't correctly 'socially distance' like non-handicapped people. When we go out with helpers, it is impossible to leave a two-meter gap between us."
Nishiyama said, "It confuses me when I can't ask someone to help me. When we go out with the help of someone else, being close to each other is inevitable. But now I cannot ask for help when I need it. The organization for people with visual impairment provides us with helpers, but for the past few months more than 60% of the helpers have not been working there, since there is no guarantee of avoiding infection. When they say, 'I will not come with you as I am worried,' I cannot say, 'Oh, that would be a problem for me. Please come anyway.'"
Kimura talked about shopping—"When COVID-19 started spreading, some shop assistants dropped the change from a higher point into my hands. I understood they did it to avoid the infection risk caused by touching my skin, but I hated it. However, when they put the change on the tray it was also a problem as I could not see where it was, so I prefer it to be handed to me directly."
But Nishiyama also discovered an unlikely opportunity. When Shinsen Church canceled their Sunday worship services because of COVID-19, their pastor, Mitsuya Asa, started "Kyōkai Tsūshin," a church newsletter, for prayers and communication with church members. Audio versions are being delivered to Nishiyama. "This newsletter makes me feel closer to other church members. Unless the person sitting next to me says something I wouldn't know who they are, and most leave after worship without much conversation. But 'Kyōkai Tsūshin' tells me news of people I never talked to. Although we cannot gather in one place, it is wonderful to be able to feel close to each other like this."
At Shitaya Church, only members who live near the church have been going to the church building during the COVID-19 pandemic, while others have been attending online worship. Kimura said, "One of the church members calls me during the worship and puts her telephone in front of the speaker. I can listen to the message in real time."
She also said, "It is necessary to be cautious about the infection, but it is sad if we become inconsiderate due to overcautiousness." Kimura and Nishiyama asked us for our understanding.
Let's use Zoom for communication! (Kanmōsen)
Kansai Mission Association for the Visually Impaired" (Kanmōsen), is an interdenominational organization started in 1972 by the listeners of "Goissho shimashō" (Let's Go Together), a radio program by PBA (the Pacific Broadcasting Association).
Their activities have been greatly enhanced by communication tools such as personal computers and smart phones that can be controlled by human voices. This year, COVID-19 caused the cancelation of their popular summer Bible Camp. So instead, they planned a meeting called "A short message and conversation" over Zoom for August 10. Miyajima, a staff member at Kanmōsen, said, "COVID-19 must not isolate people with visual impairment. That is why we will share daily testimonies and themed prayers using Zoom. For the people without any PC experience, we will assist them in installing the application. We hope it will develop into a regular meeting."
From the Christian Shimbun, August 2, 2020 issue
Translated by Tomoko Kato