Short-term teams are valuable
Short-term missions can be life-changing, both for team members and those whom they serve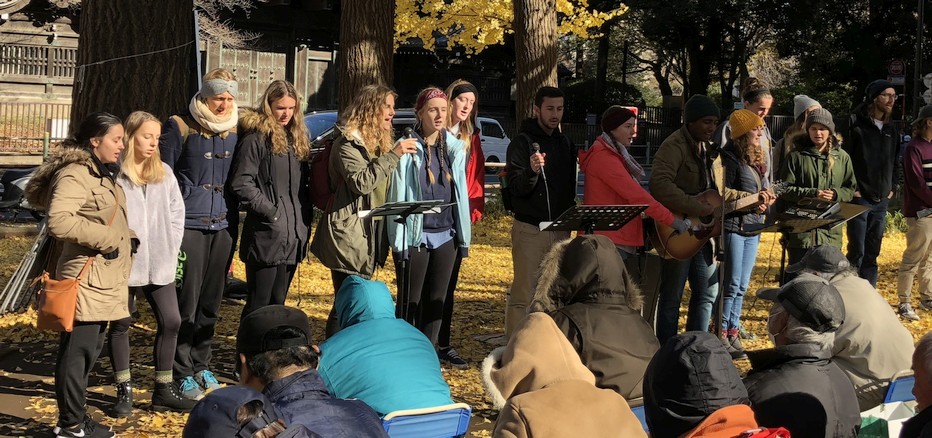 We consider short-term teams a great asset for the work of the Lord in Japan and other nations. Short-term teams assist with evangelism in many locations including parks, railway stations, and college campuses as well as with ministries such as English programs and feeding the homeless.
Changed lives
Much of this work is done in partnership with local Japanese churches. As we partner and serve with the local churches in their areas of need, we see people saved and lives touched. Many believers are encouraged as they see that God cares about Japan and sends people from the other side of the world to serve with them and bless them.
Each member of these short-term teams has taken seriously Jesus' command to "go and make disciples of all nations, baptizing them in the name of the Father and of the Son and of the Holy Spirit" (Matt. 28:19 NIV). As Hudson Taylor said, "The Great Commission is not an option to be considered but a command to be obeyed." We hope that some team members will be called to serve Japan as members of other short-term teams, long-term missionaries, prayer partners, or intercessors.
Our goal with short-term teams is to see lives transformed. We desire to see people in Japan changed and touched by God's love as they come to know Jesus and realize how much he cares for them and that he has a purpose for their lives. We also want to see those on the teams changed and drawn deeper into their relationship with God so that they return home saying, "God changed my life in Japan, and I had experiences I will never forget."
Challenges and future opportunities
Short-term outreach can be challenging sometimes, as team members are at various stages in the discipleship process. We are called to serve and strengthen one another daily and at times to bear one another's burdens (Gal. 6:2).
As we prepare for outreaches for the Rugby World Cup in 2019 and the Olympic Games in 2020, short-term teams will be a key component for mass evangelism. They will serve at these events and in local churches.
We want to involve teams at both these events in outreaches on the streets, as well as a number of other opportunities. These include: sports clinics, games in schools and parks, distribution of Christian literature, and ministry to individuals through prayer and encouragement. When people show a great interest in the Lord or become Christians, then we will introduce them to a local church in their area where they can be discipled and become part of a Christian church family.
We value short-term ministry teams. As we see people take up opportunities to serve and also lives changed, we praise God for all that he's doing in and through these teams.
Photo provided by author
---
A short-term worker's experience
Before coming on the outreach trip I had various expectations, but God showed me that outreach was very different from what I had imagined. When we first arrived, I couldn't believe that I was actually here and that we would have the opportunity to be Jesus' hands and feet in Japan.
One of the first ministry opportunities we had was to feed the homeless in Ueno Park and near Kita Senju station. I first felt bitter about this. I was fighting with myself and with God, asking why we were doing this, why we had just shown up to sing a few songs, pass out bowls of food, and then pack up. Since we didn't know Japanese, it was nearly impossible to build relationships with anyone. But in one of my quiet times, God showed me that we were leaving an everlasting effect on these people. By being present with them, we were able to show Jesus to them and reveal a small glimpse of God's heart.
Two weeks into the outreach, I began to become irritated with myself because of how little we were doing in Japan and how everything was going so slowly. I soon realized that God had some amazing things in store for us. I was able to step out by leading worship in many different ministries and churches we were then working with. I love how God allowed me to lead others and encourage people through the songs we sang and the smiles we shared.
—Rohan Salhotra