Stop waiting—start celebrating
Seasons when families gather to celebrate can be difficult for singles. Here are some resources that helped me celebrate as a single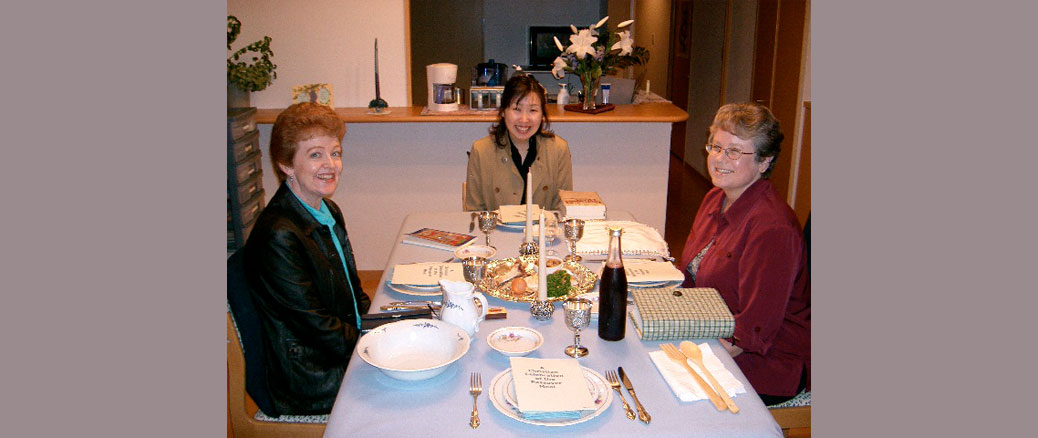 C‌hristmas and Easter can be difficult seasons for singles. They can also be times filled with expectation, worship, and joy in the Lord. Many variables influence whether a season is joyful or painful: one's background, age, season of life and ministry, mindset, etc. In this article, I'd like to share some resources that helped me develop my own traditions while I was single, before I got married at age 47.
I grew up in a church-going home, but faith in Jesus was not an everyday reality. Holidays were centered more on tradition than Jesus, especially once my family stopped attending church when I was nine.
When I was in my early 20s and firmly established in my own church family, I had glimpses into some families' traditions and celebrations around the holidays. My self-talk often went like this: "I'm going to do something like that once I have my own family." However, as my 20s began to slip away, I seemed no closer to that family of my own. Then one day, I sensed the Lord speaking to my heart—Stop waiting. Start celebrating!
Celebrating Christmas with an advent banner
Beginning my personal celebration journey, I bought a book I had seen in a family's home: Family Celebrations: Meeting Christ in Your Holidays and Special Occasions by Ann Hibbard.1 The first activity I chose to do was make an advent banner. On the banner was a Christmas tree made of felt material and each day I added felt ornaments symbolizing the coming of the Messiah. Over the following years, that banner—along with Scripture and praise music—deepened my personal worship of the Lord. Using it gave me much joy during the hectic season of church outreach activities.
That personal preparation for Christmas spilled over into my public life and ministry. My joy was more secure, focusing on worship of my Lord rather than on the arrival of "the day" and the nostalgic feeling of Christmas we're supposed to feel. It helped me to have a more positive attitude. I was able to adapt some of my personal worship content into messages and teaching for church services and outreach events.
Focusing more on the Passover and Easter
I later made an Easter banner—the road to Calvary (from the same book by Hibbard), using ornaments symbolizing Jesus' ministry, death, and resurrection. This banner also gradually made its way into my church as I used it for children's messages.
There was a time when I was quite disappointed by the Japanese church I was working with because Jesus' resurrection was barely celebrated. About the same time, one of my married TEAM sisters, Amy Barber, held a seminar on celebrating Easter (check out her website, Amy's Free Ideas, at www.amysfreeideas.com).
At that seminar, we considered this thought: If the gospel accounts record more content about the last week of Jesus' life and his resurrection than his birth, perhaps our celebration of Easter should reflect that. Perhaps we should take more time and effort to celebrate this season. This changed my celebration focus.
I began to put less time and effort into decorating and baking for Christmas, keeping it simple and worshipful. At the same time, I put more time and effort into celebrating the Easter season.
Another resource that helped me was Christ in the Passover (also published in Japanese).2 There is a YouTube video by David Brickner, executive director of Jews for Jesus, which I love to watch every year (https://tinyurl.com/Christ-in-the-passover). From these materials, I developed my own Christian Seder (meaning "order"), a program and meal celebrating Passover and how Jesus fulfilled it. I invited three friends to my home to celebrate with me and invited three different friends in each of the following years.
The Lord has expanded my Easter celebration. I have been able to organize a larger Seder meal for my 10-member fellowship group a few times, and twice my husband and I have led simultaneous ones for about 50 of our OMF colleagues: one kid-friendly and the other on the quieter side.
I am so thankful to the Lord that he prodded me to stop waiting and start celebrating. How much joy I would have missed out on during those 20 plus years of singleness had I not listened to Jesus.
1. Ann Hibbard, Family Celebrations: Meeting Christ in Your Holidays and Special Occasions (Wolgemuth & Hyatt, 1988).
2. Ceil Rosen and Moishe Rosen Christ in the Passover (Moody, 2006).
Photo provided by author