Using manga as a bridge
Drawbridge Creations is using art and story to create connections with Japanese people
Anyone who has spent time in Japan will have noticed that manga is everywhere. It's so popular that in one week, people in Japan buy more comics than people in the US do in an entire year. This is the land of manga cafés, phonebook-sized weekly manga magazines, and bookstores with huge manga sections. Manga can even be rented. The variety is huge and there's something for all ages from toddlers to senior citizens. Cartoons are also commonly used in advertising, instruction manuals, and even new employee handbooks.
So why not use this significant part of Japan's pop culture as a spiritual bridge to the gospel? And since more and more are being read online, it makes sense to take manga ministry online too.
This is where Drawbridge Creations comes in.
Who we are

"Drawbridge Creations is a web-based manga outreach with the three-fold purpose of reaching the unchurched, resourcing the church, and empowering Christian artists in order to bridge the gap between church and culture; between Jesus and Japan" (quoted from the Drawbridge website).
We are following a webcomic model, serializing the content (for free), with plans to collect the stories for print publication later on. If our first project is successful, we envision it having the potential to grow into a larger multi-series/multi-platform ministry. But, though we're dreaming big, we're starting small with one self-contained series called Waypoints.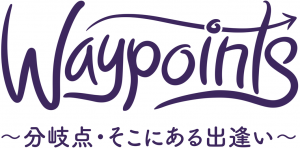 Waypoints is an anthology series telling short stories taken from the gospels, each tale told from the point of view of someone whose life was changed by encountering Jesus. Each story is illustrated by a different artist in his or her own style. Waypoints launched in August 2020, and there are currently six Japanese and international artists producing work for us.
How we're building bridges online
We believe art and story can be effective in touching hearts and changing minds. But online, it would be easy for people to come, read some manga, and leave without making any deeper connection. That's why we hope these stories will be conversation starters and that the website itself can be a platform for that. So not only will we upload new manga each month, but we'll also leave readers with questions to think about and respond to in the comments. In addition, we plan to update the blog regularly with articles on the Bible passages and themes related to the stories we've posted, as well as videos to get people thinking and talking about life, faith, and Jesus. We'll also encourage people to contact us if they'd like to ask questions, receive a free Bible, or visit a church. We plan to network with churches and missionaries around Japan so that when a reader is ready, they can connect with a Christian community in person.

How you can use these tools
We hope this series and website will become a useful ministry tool for you, and for churches and Christians in Japan.

Here are some ways Christians might use this tool: you could share a link to a specific story that resonates with you or a story a person you're witnessing to might enjoy. It could be a good conversation starter or even a "springboard" to get people reading the Bible itself. If you have an online ministry platform, you could link to one of our stories when it is on topic with your own blog, video, or social media content. Think of it as "bonus content" for your own online ministry.
Waypoints could also be used to supplement Bible study materials. For example, you could share a link with the members of your Bible study group, asking them to read the manga adaptation before getting together to study the related Bible passage together. These are a few ideas for using our online content as a ministry resource. Perhaps you will think of even more uses—please let us know if you do!
Where to find us
Waypoints can be found at waypoints.jp. The main site is in Japanese, but all the manga are available in English, too, at https://www.waypoints.jp/english. For more information about our ministry or to get in touch, please visit drawbridgecreations.com.