Why action sports ministry in Japan matters
God has opened up a unique opportunity to reach a group of people who are unlikely to go to church on Sundays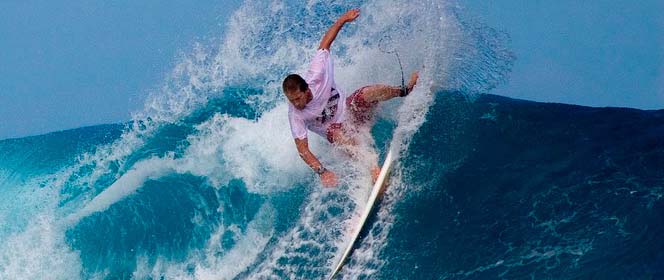 Japan has the largest unreached action sports population in the world.1 God has given us a great opportunity to reach whole communities with the gospel through action sports such as surfing, rock climbing, snowboarding, mountain biking, and skateboarding. These are people who likely would never set foot in a church building.
Church planting is pretty much done the same way today as it was in the 1950s except that the Bible messages are shorter and the music is a bit more upbeat. But the approach of using programs to attract people hasn't changed much. Why don't we try some new wineskins? Who knows? God might start a discipleship movement within the action sports tribe that could spill over to other sections of society and boost the wider church.
A growing tribe
There's a strange tribe living among us! Fanatical rubber-clad surfers brave the freezing waters of midwinter Hokkaido. After smearing Vaseline on their faces to prevent frostbite, they endure numb limbs and even put their lives on the line in order to catch good waves. On an average Sunday in summer, there are more Japanese in the ocean surfing waves than Christians worshipping at churches.2
A bunch of tattooed skaters in their forties roll through skateparks in the big metropolitan areas. They're training the next generation of young skaters, who recently started to show up at international contests, stunning the other competitors with their sheer skill and claiming places on the winners' podium.
Indoor climbing walls are attracting young and old all over Japan. Japan has more indoor rock-climbing walls/gyms than the US.3 In the current 2019 World Cup bouldering rankings, Japanese men are first, second, and fourth, while in the women's division, Japanese ladies hold second and fourth places.
One of the most famous snowboarders alive (and style icon) lives just around the corner from New Chitose Airport near Sapporo. The word "Japow" (Japanese powder snow) sets every skier and snowboarder around the globe daydreaming. More and more mountain bike trails and pump tracks are opening, and the mountains in Niseko and the Japanese Alps are drawing more people every season. These are part of the growing tribe of action sports people in Japan.
An estimated 12+ million Japanese are involved in the snow, surf, and skating industries alone, which does not include other action sports. They are part of a huge global tribe: X Games, the annual extreme sports event, are the most watched event by youth, and more Americans skate than play baseball.4
Next summer, surfing, skating, and climbing will be introduced to the Olympics here on our doorstep, which could prompt a fresh influx of members to the action sports tribe in Japan.
Engaging the action sports community
As early as the 1970s, some surfing missions began to internationally engage with this unusual tribe. At first, the church struggled with these countercultural expressions. Could someone possibly be both a Christian and a surfer, skater, climber, or snowboarder? Similarly, action sports people struggled with the church. They associated church with rules, structures, and strange and conservative behaviour. But in recent times, the Christian faith has taken deeper roots in the action sports tribe around the world. American world surfing champion C. J. Hobgood; Belgian World-Games rock-climber Anak Verhoeven; skating icon Christian Hosoi; and American snowboarder Kelly Clark, who has won multiple world championships—are just a few high-profile Christian athletes who shine their light within the community.
But there also is a groundswell of unknown but influential action sports people who have adopted their skatepark, surf beach, or mountain resort as their congregation. They are bringing the church to where people are waiting to hear the good news and making disciples who transform their communities. There's a new wave coming!
A unique opportunity
The church in Japan has a unique chance to creatively engage with this action sports tribe in all kinds of ways. Many are finding a new identity in the action sports tribe, and our God is the One who goes after the lost sheep, which this tribe so typifies.
God is waiting for us to use action sports to reach people with the gospel. He is inviting us to enter the tribe, where he's already at work in people's hearts. He's waiting for us to go and search for the lost sheep. If it's not you, is there someone you can send?
It is important to be willing to adjust to the subculture of the people you're trying to reach—that's the heart of incarnational ministry (biblical examples of incarnational ministry are found in the lives of Jesus and Paul as seen in John 20:21 and 1 Cor. 9:19–23). It is vital to take time to meet people where they are, to build friendships around a common interest, and become a part of the tribe. Riders gather at skateparks, surfers are out chasing waves, while others are climbing snow-covered mountains. They won't come to church, as they are out enjoying creation. To reach them, we need people who are willing to go and live authentic, Jesus-filled lives within the action sports culture. There they can find those who will be changed by the gospel, who will then change the whole tribe from within, one disciple at a time.
It might be a slow start, but we just have to keep reminding ourselves of the yeast and mustard seed parables. We might need the odd ones, the misfits, the ones who can't sit still during a church service. Maybe we need the ones who struggle with ordinary church life—those who don't enjoy singing hymns, who aren't interested in long Bible studies, and who might not read this article. You could be their Barnabas. Action sports believers often feel alienated from their church community because of their passion for their sport.5 They can also feel alienated from their action sports community because of their faith. Action sports ministry supports and validates the believing participant as well as reaches out in mission to nonbelievers.
The vision of action sports ministries is to fulfill the Great Commission through making disciples of Jesus in and through action sports cultures. You might become a Jesus-honouring, action sports missionary. If not, please join us in praying for labourers, as the harvest is ripe.
ACTS (actionsportsministry.org) is a network of like-minded action sports mission organisations, churches, and individuals who initiated the GO-Japan action sports conference in October 2018 (see sidebar). The aim is to awaken the Japanese church to the needs of the unreached action sports tribes and to train and empower those passionate about these sports to combine their passion with God's purposes in mission. The dream is to mobilize an action sports mission movement in Japan. You can help by praying that:
God gathers the right people for the third global ACTS summit, May 19–22, 2020 in Chiba. (It is followed by a Japanese action sports conference on May 22–24, 2020.)
God births a movement amongst the action sports tribe within Japan.
Vision and strategy emerge for the Olympics and action sports.
God might raise up Japanese and overseas action sports missionaries.
1. The International Action Sports Coalition has identified Japan as the biggest unreached action sports population in the world.
2. There are about two million surfing enthusiasts in Japan. Nihon Keizai Shimbun (Japanese website) https://www.nikkei.com/article/DGXKZO89513960Q5A720C1MM8000 (July 20, 2015).
3. Japan Today, https://japantoday.com/category/features/lifestyle/rock-climbing-opens-up-to-the-masses-in-tokyo. April 7, 2008.
4. Sports Spectrum Magazine, Summer 2018 Edition.
5. When a young Japanese surfer friend was put on the spot by her church to choose either church or surfing, she chose her close friends and surfing. For many years, she thought that she was a lost cause and not good enough to be a Christian.